Winning an Oscar at the Academy Awards is like the Holy Grail to all aspiring actresses. This honor shows that you have the caliber and talent to really make strides in this demanding industry. I mean, come on, you've reached Meryl Streep status -- this is every celeb's dream come true. Except if you're Jennifer Hudson, that is. In a recent interview with Self magazine, the star admitted that her biggest accomplishment thus far is her extreme weight loss, not her Oscar.
Hudson is quoted saying, "I'm prouder of my weight loss than my Oscar!" See, now this is why I have a problem with formerly plus-sized stars losing weight -- it makes them stupid. Don't get me wrong, I think it's great that she didn't let herself go after having a baby (she's dropped over 80 pounds) and has decided to become more healthy, etc. It's important to feel good about yourself and who you are, but she's taken it to the other extremely and it's gone and messed up her priorities. I hear more about Hudson's weight loss than I do about her singing or acting career. Jennifer, you won an Oscar! That's huge and many actresses would trade their face-lifts and boob jobs to be so highly recognized by the entertainment powers-that-be. Now she's too obsessed with what slim-fitting outfit she's going to wear on the next red carpet to even think about trying for another nod from the Academy. Not even her child takes the top billing on being her greatest accomplishment. Tell me that's not messed up.
Hudson states in the interview that "I didn't even know I was considered plus-sized until I came to Hollywood...I thought I was the perfect size!" She was the perfect size! With a voice like that, no one was worrying about her weight, and she accomplished so much musically both on American Idol and in film. She hasn't won anything since becoming so skinny (probably too busy running on a treadmill). Let's put vanity on the back-burner and focus on that potential career of yours. So put down the weights and pick up a microphone girl!
Click the image below for more photos of Jennifer Hudson!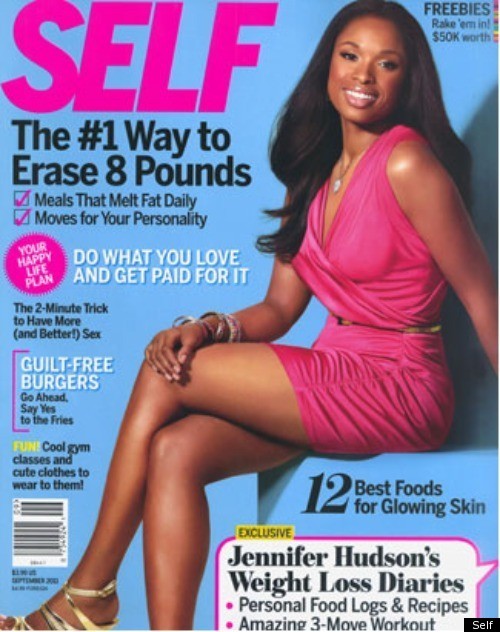 Source: Huffington Post