When the celebrity cast for the upcoming 13th season of Dancing With the Stars was revealed the internet world became abuzz with cries of hate and outrage about the selection of Sonny and Cher's daughter-turned-son, Chaz Bono. The ABC message board became a personal stomping ground for transgender haters, claiming that this was no longer a family show. Chaz, however, seems to be taking the high road and handling it all with grace while trying to ignore all of the negative energy coming his way. The transgender activist stated today in an interview on Good Morning America that, "I really haven't been paying that much attention to it. I think it's a much bigger deal to everybody else than it is to me."

Bono isn't looking for sympathy or any kind of special treatment during the dance competition. He explains "I'm just a regular guy. All these ideas that children shouldn't watch me, I'm going to be confusing, all this stuff, it's crazy." So much for all those lessons we're supposed to teach our kids about not judging a book by its cover. I guess that's only for when a parent deems it necessary. No matter what, I'm sure he will land on his feet (let's hope literally on this show) since he's used to living in the public eye, having such infamous parents. It's still upsetting though to see how much hate their is in this world. OneMillionMoms.com, an online activism group geared towards mothers, is calling for the boycott of the show and is calling Bono's casting "completely unacceptable and Christians should not watch the show, no excuses!" But Bono challenges these critics stating, "I'd tell them to watch the show and decide after that. It's a dancing show. I'm not there talking about anything other than dancing. People who don't have gender dysphoria aren't going to catch it by watching me dance on television."
Either way, he's got many supporters by his side including his mother who tweeted in defense of her son saying, "lovelies! Chaz is Being Viciously Attacked on Blogs & Message boards about being on DWTS! This is Still America right ? It took guts 2 do it," adding "I support him no matter what he chooses 2do." He's also got the support of his lovely dance partner, Lacey Schwimmer who stated that "I was absolutely thrilled. I've always been a huge supporter of the LGBT community and I couldn't be more excited to have Chaz. Not only is he Sonny & Cher's child but he's also a generally cool person." Even his competitors are showing their support, so he should have a lot of fans throughout the competition and hopefully a lot of votes!
Click on the image below for more photos of Dancing With the Stars!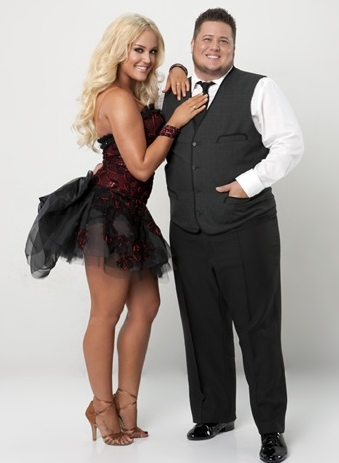 Source: ABC News