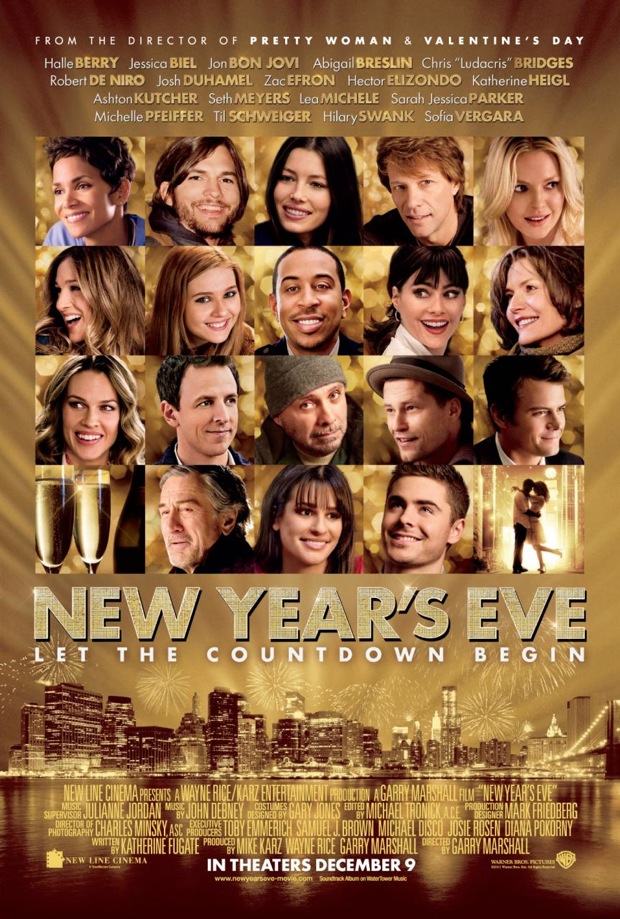 New Year's Eve, director Garry Marshall's quasi-sequel to his shockingly successful 2010 rom-com Valentine's Day, opens everywhere in theaters this Friday. In commemoration of this glorious occasion, Marshall and assorted members of his film's mega-ensemble, including Zac Efron, Lea Michele, Hilary Swank, Josh Duhamel, and Michelle Pfeiffer, gathered at the Beverly Hilton Hotel in Los Angeles for a press conference that proved every bit as illuminating as one could possibly hope. Following are some of the highlights:
Josh Duhamel's scenes with Yeardly Smith, best known as the voice of Lisa Simpson, proved more discomfiting than he anticipated:
"I kept thinking, 'This is Lisa Simpson,'" Duhamel recounted. "She was playing the pastor's wife, and there was a few takes where she was playing it really kinda frisky … I was telling her this story about this girl that I'd met the year before, and she played it like she was getting all hot and bothered, and I kept thinking, 'I'm making Lisa Simpson all hot and bothered with this story.' There was something really wrong about that."
Hilary Swank's charming anecdote about her New Year's Eve scene partner, Robert De Niro, may unwittingly give credence to those who accuse the Raging Bull star of sleepwalking through the latter portion of his career:
"I walk in and Robert's in the bed, and he's kinda laying there," Swank recalled of her first scene with De Niro. "You hear all this stuff about Robert De Niro, that he's method. And this is a comedy, but [his character] is dying. I don't want to get in anyone's way. So, he's laying there and he's like this [mimes serious pose]. He sees me, and he kinda shuts his eyes, and I'm thinking, 'Wow, he's giving it to me. Like we're connected here. We are connected. Me and De Niro – method.' I start getting a little emotional. But the camera's not on me, but we were just getting into the mood, of the father-daughter, father dying kind of thing. I'm feeling it. I'm going deep with De Niro. The next thing I know, he's opens his eyes, 'Aaah, anyone got that coffee?' And I'm like, 'Oh, my god, he was sleeping!' I thought he was going deep for me. The truth is, he'd been in that bed all day, from like six in the morning. He took a nap!"
Apparently, Lea Michele is the easily-impressed type:
"He's also really smart and would like talk about everything going on in the world," Michele raved about her co-star, Ashton Kutcher. "I had absolutely no idea half the stuff he was talking about. So, I would go home and Google everything, and try to brush up on everything that's going on in our world [in order to] come in the next day and try to have a conversation."

Zac Efron has a thing for older women – much older women.
"I met Michelle a few years ago doing Hairspray and had a huge crush on her, always, from day one," said the High School Musical star about Michelle Pfeiffer, with whom he shot the bulk of his New Year's Eve scenes. "Back then I was very, very young and very bashful … But then, I got to talk on the phone with [her] about this part, I remember, and she said, 'I think we should take this to the next level. We should really push it. Let's get a kiss in there.' I was like, 'I am in! I'm in this movie. Put me in, sign me up. Let's do it.' It was awesome. [To Michelle] It was lovely working with you. Every single second with you was amazing."
"Well, I'm the envy of every girl across the planet, I think," Pfeiffer blushed. "I got a kiss in there with Zac Efron, which was pretty clever of me, at the ripe old age of 53."
If you're looking for a hot party on New Year's Eve, you might want to avoid Hilary Swank's house:
"I stopped trying to chase the perfect place to be and realized the perfect place is with your loved ones and with your closest friends, around the dinner table, over a good meal, talking about the past year and the year to come and things that you want to change in your life, and hearing their stories and what you'd like to see happen in the world," related Swank. "That's what we do. And I never make it to midnight – ever."
Pfeiffer is hardly a night owl, either, though that could change if Efron gets his way:
"I celebrate New Year's at nine p.m. West Coast time," said Pfeiffer. "I watch the ball drop in my jammies with some champagne, maybe some pie, or whatever happens to be around. I stopped setting those unrealistic expectations for New Year's Eve many years ago."
"We're going to change that because you're coming out with me this year," Efron asserted (threatened?). "The parties seem to get better and better every year. I'll show you how we do it, Michelle."

If don't like Efron's character's dialogue in New Year's Eve, don't blame Garry Marshall, bro:
"Zac and I are different ages, so a lot of times when we wrote scenes and some of the words didn't seem to be in his vernacular, I asked him to say it the way he'd say it," revealed Marshall. "[To Zac] There was one scene [where] you said 'Bro' seven times. I think he made it more real, just by doing his own language."
Marshall knows a thing or two about language. In addition to directing, he likes to invent new words:
"There's a word – I think it's French or English – called 'portcanteau,'" Marshall explained. "It's p-o-r-t-c-a-n-t-e-a-u. It means a series of stories that intermingle and come to some conclusion. It's been done years ago by many European filmmakers – Love Actually is a modern picture that does that. So rather than say, 'Well, he does a show with a lot of stars,' I like to say it's a portcanteau film."
Click on the image below for more pics from New Year's Eve: