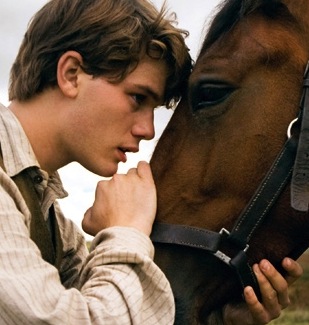 The majestic creature mentioned in the title of director Steven Spielberg's latest movie War Horse may be front and center of every frame, but around him are some of the best actors and actresses working today. Which is great for you and I—we get to watch them work magic on the big screen, plus they're eager to talk up the movie in interviews!
I had a chance to talk to a handful of the cast, including Tom Hiddleston (of Thor and the upcoming The Avengers), Toby Kebbel (Prince of Persia), Patrick Kennedy (BBC's Bleak House), Emily Watson (Punch-Drunk Love) and newcomer Jeremy Irvine, a young thespian destined for big things in the future. Check out what they had to say:
Emily Watson and Jeremy Irvine
On working with the horses and the joy of acting in the rain.
Patrick Kennedy, Tom Hiddleston and Tony Kebbel
On the movie's epic locations and working with Steven Spielberg