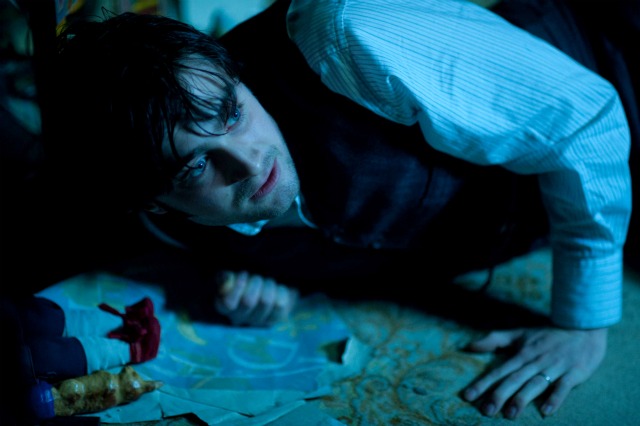 Though he originally jump-started his acting career playing the iconic role of Harry Potter in the Harry Potter franchise, Daniel Radcliffe has made it known that his talents far outreach that of the supernatural realm. In fact, he was recently named Entertainment Weekly's Entertainer of the Year -- and for good reason. We've already seen him grace the Broadway stage twice in both Equus and How To Succeed in Business, proving he can sing, dance, and be completely comfortable with full frontal nudity. Additionally, Radcliffe has guest spotted on The Simpsons and hosted SNL as a way to show off his funny side. And now he's even trying his hand at horror, in the upcoming film The Woman in Black (set to release in theaters this weekend).
Yes, there's no doubt about it -- this guy's got some serious acting range. The Boy Who Lived is quickly becoming The Boy Who Can Act (sorry, I couldn't help myself), which makes me wonder what other genres he'd be able to tackle. I say it's time for Radcliffe to spread his acting wings even further and really show the world what he's made of. And I just happen to have a few suggestions of where he could start. Here's a few new roles we wish our dear Radcliffe would take on.
The Villain
So far in his career Radcliffe has portrayed the epitome of good. Whether he's ridding the magical world of all evil (i.e. Lord Voldemort) and tap dancing his way into our hearts on Broadway, he's always been cast in the protagonist role. I say, let's give him a real challenge and make him the villain instead. I don't care if he's an axe murderer, an evil superhero, or a crazy ex-boyfriend -- let's just see him play the bad guy for once. It would be great to see him play such a diverse character from his normal "good boy" approach. And I have no doubt he'd end up converting all of us over to the dark side in no time.

The Western Cowboy
This guy is no stranger to dueling (with wands at least), so I'm sure he'd fit right in as one of the roughest, toughest cowboys the wild, wild west has ever seen. I mean, if he can look good on a broomstick then just imagine how great he'll be on a horse (besides, he really had a thing for them in Equus). And don't act like you wouldn't be curious for Radcliffe to try out a western accent. No, on second thought, let's have him keep the British accent because a British cowboy would just be too amazing (not to mention hilarious).
The Iconic Figure
Many actors in the past have gone on to emulate legendary iconic figures -- this year alone, Michelle Williams and Meryl Streep were both nominated for Oscars this year for their portrayals of Marilyn Monroe and Margaret Thatcher. Roles like that are certainly more difficult to take on, but I have no doubt Radcliffe would be up for the challenge of such a auto-biographical role. And while I'm sure he'd be able to pull off a countless number of legendary figures -- historic or otherwise, I'm thinking he'd do a great emulation of one of The Beatles. How about John Lennon? His singing capabilities and genuine British accent would bring some great authenticity to a truly monumental role. Let's hope is role in Kill Your Darlings, where the actor is set to play poet Allen Ginsberg, actually happens!
The Rom-Com Guy
Hundreds of hunks before him have won women over in your classic chick flick genre -- and it's time Radcliffe gave it a try. We are already well aware that he can triumph over evil, but how would our valiant hero fare in the ways of true love? His boyish good looks and proven comedic timing could definitely add a new level of charm to your garden variety rom-com and seriously help increase his female following (not that he really needs any help in that area). But come on, a British boy making a fool of himself and overcoming a bunch of ridiculous obstacles just to win the love of a girl? That's pretty adorable and definitely worth seeing.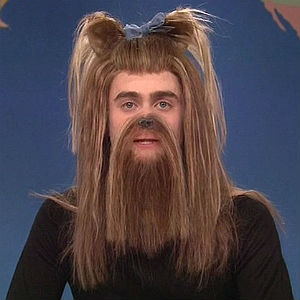 The Action Star
Every great action movie needs a great action star and I have a feeling Radcliffe would be the perfect fit. This guy's destroyed 7 magical horcruxes in the face of imminent death, so surely he'd be able to handle a few measly, mortal criminals. I'm thinking Mission: Impossible stunts and secret covert operations to save the planet -- it'd be great to see him try his hand at such a role. Plus we already know he wouldn't have any trouble motivating the masses to take action against a common enemy (hello, he was The Chosen One after all). Radcliffe carries the air of a natural-born leader; someone who's unafraid to rise up against evil and kick some serious ass while doing it. It's what every good action movie needs.
The TV Guest Star
He's already established himself as a big time movie actor, but how would his talents measure up on the smaller screen? I say let's drop him into a TV guest spot and see what he can do with it. He could play it safe by spotlighting in the magical realm of Once Upon a Time since he's used to the whole fantasy genre, but how great would it be to see him in a show like Breaking Bad or Parks & Rec? Now that's a celebrity cameo I'd tune in to see. He's already shown us he possesses some diverse acting skills and this would just be the perfect way to see more of it.