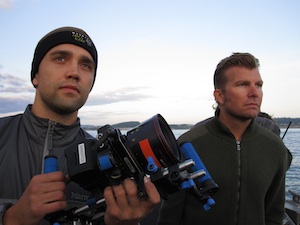 On the weekend of February 24, the action-thriller Act of Valor, starring real-life active-duty Navy SEALs, defied the predictions of many pundits (and the verdicts of most critics) to handily win the box-office crown. In an exclusive interview with Hollywood.com, Act of Valor directors Scott Waugh and Mike "Mouse" McCoy reflected on their success, cleared up persistent speculation about the soldiers' participation in the project, and talked about their ambitious plans to "bring back the live-action film":
There were a lot of people who doubted whether the concept of casting real-life SEALs would work in a feature-length film, but obviously audiences have embraced it. Do you feel a sense of vindication at its box-office success?
Mike "Mouse" McCoy: We're just really humbled overall, and mostly we're really thankful that the men and women in uniform and veterans that have seen the movie are really embracing it, and are really thankful that they were properly represented. The comments that we're getting from men and women in uniform are pretty amazing to us.
Have you talked at all with the soldiers who starred in the film since it debuted? Are they rock stars at home or what?
Scott Waugh: We've become very close friends with all of them. They're back doing what they do: They're active-duty Navy SEALs. One guy just got deployed, another guy's on work-ups, and they're all back to work. They really kinda giggle when people say, "Oh, they're probably Hollywood celebrities now." No they're not. They're doing what they do, and they're still very quiet about it.
That's pretty impressive. There's no way I could go back to my day job after starring in a blockbuster.
Waugh: Well, that's the reason Mouse and I wanted these eight SEALs in particular. They're very confident, competent men, and they weren't seeking the straight-to-Hollywood program. They're Navy SEALs to the core.
There have been some hints (most notably in The Huffington Post) that the soldiers' participation in Act of Valor wasn't entirely voluntary. Can you comment on those allegations?
McCoy: That's absolutely false. All of the guys volunteered to do the film, 100%.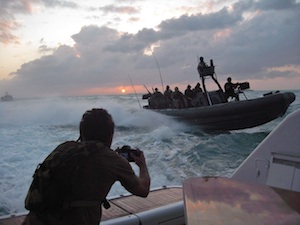 But you did partner with the U.S. military in making the film, right?
Waugh: Well, they provided access for us, yes. They let us really get immersed in their culture and find out what it was all about, and they definitely gave us access to current training evolutions.
McCoy: But it's important to note that we had full story control on this film. The military just had a scrub on what they call technique, tactic and procedure, to make sure we're not giving away anything classified or showing anyone how to do something, but we had complete control of the story.
You guys started on this film over four years ago. What impact did the Navy SEALs' capture of Osama bin Laden have on the project? Do you think it helped raise its profile?
McCoy: The film was already finished and in the can [when bin Laden was captured]. We had already tested it – it was testing really well – and we were really just trying to figure out our distribution strategy.
Waugh: We actually pulled the film down when the bin Laden incident happened. We went dark for over a month. We did not want the film to take recognition from that event; the guys deserved it. We did not want to be a part of that. It was kind of counter-intuitive to everyone who was saying, "This is the time to sell your movie!" We were like, "No, it's not."
McCoy: We were not going to be exploitive of the community at all. But to answer your question: Yeah, it absolutely helped. We had a saying early on: We don't have stars in our movie; we just have heroes. After [bin Laden's capture], I think people really started to wake up to the amazing things they've been doing for our country for a long time.
Waugh: Or at least Hollywood did.
That's interesting, because we recently saw news that both a Top Gun sequel and a Navy SEALs project starring Mark Wahlberg are moving forward. I can't believe the timing's a coincidence. Do you think that Act of Valor has helped trigger perhaps a renewed interest in pro-military films?
McCoy: Well, we've been hearing so much positive feedback from audiences across the board. And what that's telling us is that audiences want films that are patriotic, that recognize the value of a servicemen overall. So I definitely think this film is going to prove that there's a market for pro-American films.

One of the distinguishing features of Act of Valor is its lack of CGI. Do you feel that there's been an overabundance of CGI in recent years?
McCoy: Without question. Just for ourselves as consumers, there's not many action films we want to watch, because they're just CGI mash-ups. They're all fake; they don't respect mechanical physics at all, and I don't know if I'm supposed to process most modern movies as animation or as live-action. I'm confused … What we're trying to do overall is bring back the live-action film. [Act of Valor] is all in-camera, all the stunts are real, there's no CGI in the movie, and we want to bring back that classic live-action in-camera movie.
You guys have Black Sands lined up as your next project, right?
Waugh: Yeah, we're slowly gearing up for that. That's with Arnold. Not a whole lot to tell you about it except that it's a movie with Arnold Schwarzenegger and Mouse and I are directing it.
McCoy: Arnold's a really great man, and we're excited to have the opportunity to work with him.
Waugh: He created the action-hero genre, and it's awesome that we might get the opportunity to bring him back.
Act of Valor stars Emilio Rivera, Roselyn Sanchez, Alex Veadov, and Nestor Serrano. It is now playing in theaters nationwide.
Follow Thomas Leupp on Twitter.
Follow Hollywood.com on Twitter.