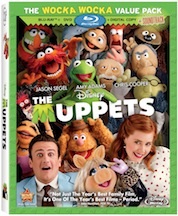 Prior to the theatrical release of The Muppets, the viewing public was graced with an influx of teaser trailers that parodied other contemporary movie previews, including the Green Lantern trailer, a The Hangover Part II trailer, a The Girl with the Dragon Tattoo trailer, a generic romantic comedy trailer, and, in the most mind-numbingly meta incarnation imaginable, a Muppet trailer (they parodied themselves, thus forming a black hole that will doom us all in due time). And although the film has come and gone, the people being The Muppets have found another reason to strike up the trailer parodies: the Blu-ray release. And, thanks to the good graces of timing, they have found another film ripe for satire: The Hunger Games.
Combining the glory of
The Muppets
with that of
The Hunger Games
 is quite the endeavor to take on, and something this generation is quite lucky to have lived to see. In celebration of both
The Muppets "Wocka Wocka" Value Pack
releasing March 20, and
The Hunger Games
theatrical release on March 23, the below parody has come to be. Fans of both or either should enjoy heartily, and look forward to the end of March: good things are on the way.