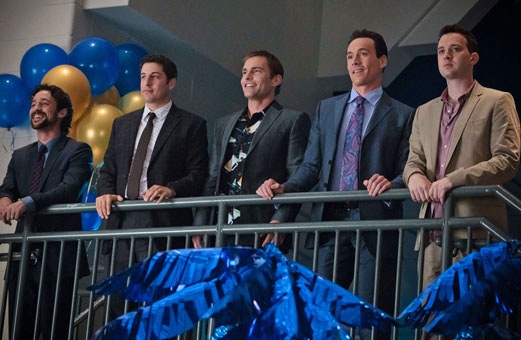 As American Reunion is just around the corner, this new red band trailer might be the last of a long line of promotional items fans have seen so far. Ever since that heartstring-tugging slideshow was released back in August of 2011, a benign pandemic of Pie Fever overtook the fanbase who was just young enough to consider the very first American Pie a comedic home run — and a welcome representative of its generation.
Since then, several other videos have surfaced. The first Red Band teaser, and two full trailers: one nostalgic and funny, the other sweet but raunchy. Finally, it ropes back around to the expletive heavy, sexually charged full Red Band trailer. While a lot of the scenes are reapplied from old promos, you get the full effect of the American Pie gang in this latest piece — especially Stifler (Seann William Scott). The series' breakout character, now in his early 30s, delivers material that would make his 18 year-old self squirm. With a little bit of pride, maybe, but also some legitimate fear.
If you didn't grow up with American Pie close to your heart, this trailer might not do much to sell the new flick to you. But if you can't hear Blink 182 or "Laid" without getting a little misty, this new Red Band trailer will send you running for the theaters.
American Reunion opens Apr. 6. More