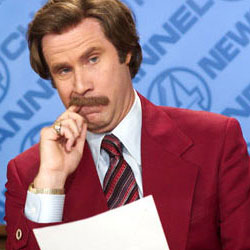 It hasn't been easy for us Anchorman fans: First a sequel is happening, then it's not (just last week it was "100 percent dead") ... and repeat. But now, well, it's really happening!
The best news is that Will Ferrell, Steve Carell and Paul Rudd will all reprise their roles—ditto co-writer/director Adam McKay (who penned the script with Ferrell). No word yet on whether other key cast members like Christina Applegate and David Koechner will return.
It's been a bumpy path to sequeldom virtually ever since the first movie—in which Ferrell famously played local newscaster Ron Burgundy—was released in 2004, with an almost constant series of (near) starts and stops that are rumored to have been due to budgetary concerns. Which would make sense, because eight years ago, supporting players like Carell and Rudd came cheaply but are now two of comedy's go-to leading men.
More
Anchorman Sequel Will Be 'Strange and Aggressive,' Says Director
[Deadline]