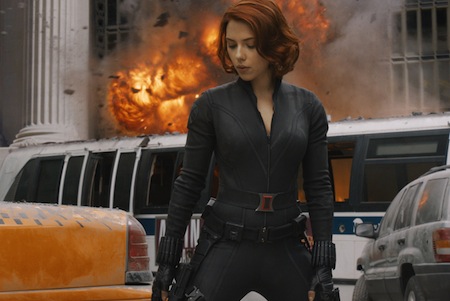 Much like the impending invasion conflict at the center of Marvel's The Avengers, marketing for the ultimate superhero team up movie is now in full force. Raining down from the heavens are snippets of footage, behind-the-scenes snapshots, posters of every character under the sun and anything that could ramp up anticipation (it's even closing out the esteemed Tribeca Film Festival!). As one of the biggest event films of all time, The Avengers is living up to the hype.
With only a month left, Marvel and Disney are beginning to pull back the curtain on their action epic, which has been shrouded in secrecy ever since it was unveiled at San Diego Comic-Con two years ago. Two new TV spots have been released, teasing a bit more of the superteam's tiff with temperamental God Loki:
Hot on the tails of the two thirty-second trailers is the movie's first full-length clip, a scene featuring Black Widow (Scarlett Johansson) kicking, punching and dancing her way out of a sticky situation. Most of the selling point for The Avegners has been the large scale battle that likely concludes the film, but early glimpses from New York Comic Con prove that writer/director Joss Whedon has crafted a movie that's uniquely his own, full of laughs, action and character-filled drama. Not exactly the angle you take for a $300 million blockbuster, but this first clip, which includes a fun exchange between Johansson's Widow and Agent Coulson (Clark Gregg, who climbed the cult favorite ladder high enough to warrant his own poster). Whedon is well-versed in the world of comics, having written a few of his own and taken the reigns on big properties like X-Men, and his Avengers is starting to reveal just how comic booky it's going to get.
Find Matt Patches directly on Twitter @misterpatches and remember to follow @Hollywood_com!
More:
Robert Downey, Jr.'s Iron Man Front and Center in Avengers Poster
The Avengers IMAX Trailer: Do You Believe in Heroes?