Les Misérables is leading the movement to satisfy the public's desire for images of ordinarily beautiful people made up to look all homelessy. Previously, a shot of star Hugh Jackman celebrating the free-style art form of facial hair was released. But up until now, no sight of Anne Hathaway in character as the female lead, Fantine.
Below is a picture from the set of Tom Hooper's developing film adaptation of the Broadway classic. Jackman makes another appearance as Jean Valjean, balancing his disheveled destitutia with some classy old world European digs, and tossing in the inherent charm that comes with being a Jackman. Beside Number 24601 is Hathaway as Fantine, complete with chopped hair (a detail that comes into play in the story) and a general lack of hope. Early 19th Century France is no place to raise a child on your own.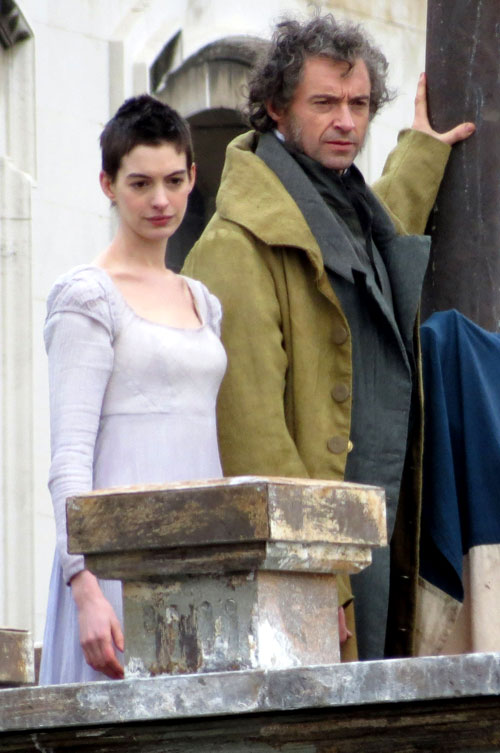 (Flynet UK/FameFlynet Pictures)
Actress Anne Hathaway and actor Hugh Jackman film scenes for their new film Les Miserables on April 18, 2012 in London, UK.
Anne, who's looking quite thin, has had to shave her head to play the role of Fantine in the musical adaption.
More:
Anne Hathaway Chops Her Hair Off for Les Mis: Will She Suffer Samson Effect?
The Wolverine Roars Back, Begins Shoot in August
Exclusive: Gone Star Amanda Seyfried Talks Lovelace and Les Miserables