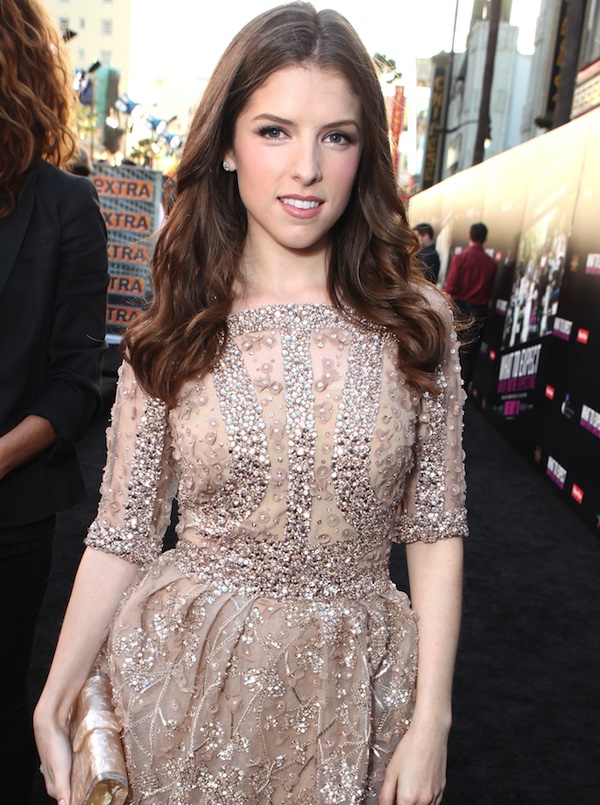 Although she costars in the upcoming What to Expect When You're Expecting, Anna Kendrick took a firm stance against reading the self-help book that inspired the ensemble comedy. In fact, she still hasn't read it. "[The book] sounds terrifying," the actress. "I feel like I'll never get pregnant if I read the book. I don't want to read a book about vaginal tearing. That's not for me."
Kendrick's loose, playful attitude has helped define her short, but impressive career. In movies like Rocket Science, Scott Pilgrim vs. The World, 50/50 and her Oscar-nominated turn in Up in the Air, Kendrick proved herself capable and comfortable in doing a little bit of everything. What to Expect continues the trend, Kendrick bringing a dash of comedy to an overtly emotional storyline — smack dab in the middle of a broad studio comedy. "The film, as a whole, read pretty light and fun," says Kendrick. "Then, as we started filming my part, I was like, 'Oh my God. I have another scene tomorrow that's a total downer." Turns out turning on the waterworks isn't the highlight of the job. "It gives you full-on headaches doing that!"
While most of the characters in What to Expect are welcoming their future babies with open arms, Kendrick's Rosie finds herself pregnant by accident — and by a father she only has loose connections to. It's a hot-button issue in today's society, where debates on birth control and abortion rage in Washington, while shows like Teen Mom hit big in the ratings. Despite the social and political baggage, Kendrick approves of the decision for Rosie to keep her baby. "When it got to me, it was on the page as it is in the movie. And I thought that it was handled really nicely," she explains. "I was just glad that [the issues were] even on the table and discussed. All these different options, as opposed to just being like, 'Well, we're pregnant, so now we're doing this.' It would be a lot easier to gloss over the part where they're going, 'What the hell are we going to do?'"
The big picture aside, Kendrick couldn't say enough kind things about her time spent on What to Expect. The actress spends most of her time opposite Chace Crawford — although she did have one memorable (and mostly silent) moment with Jennifer Lopez. "I literally cross screen once with Jennifer Lopez, and it was during a scene that was very, very serious for her.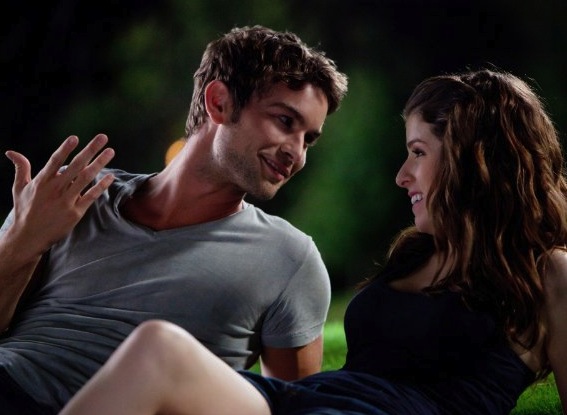 So it wasn't like we were joking around between takes. She was getting into character, and I was like, 'I'm just a girl who's here to cross screen! And try not to get in your way.'"
Having not had the experience of being pregnant herself (and having not read the What to Expect When You're Expecting tome), Kendrick did admit she needed a little lesson in what it's like to actually be carrying a chid. Enter: the on set midwife. "I just tried to listen. [The midwife] just kind of popped in to say something if there was something specific. Like, if you'd be in a little bit more pain at this point, or whatever." On a set with plenty of women, Kendrick mentions that "everybody has opinions," for better or worse. "Every woman on set had an opinion on what my breast tenderness would be."
Finding the right movie role after her brush with the Academy Awards was an unexpected challenge that left Kendrick "in sort of a panic." After a period of time second guessing herself, the actress eventually found solace. "It was a great feeling to get to a place where I was choosing things based on what I think would be fun and fulfilling. Because that's how you should be making these kinds of decisions." The qualifiers made What to Expect the right choice at the right time. "I just felt like I would have a really good time on this and have a good time with the cast. It just seemed like a no-brainer that this would be a really great experience. And it was! I had to cry a lot, but it was a good experience."
Kendrick isn't jealous of her Twilight costars who are now commanding big Hollywood blockbusters ("Those movies are all-consuming. I do not envy people who have a franchise on their shoulders."), but she isn't settling into a groove either. Her next movie is Pitch Perfect, a comedy that reteams her with WTEWYE actress Elizabeth Banks that's set in "the extremely dorky world of college a cappella." That movie will utilize yet another one of her hidden talents: singing. Kendrick broke out on the Broadway stages, and while a return to stage could be in her future, it's yet another factor in the actress' complicated decision process. "It's definitely something that I'm interested in and still want to do. It's a big decision. It's like a mini-marriage." Or having a baby.
Follow Matt Patches on Twitter @misterpatches
More:
Chris Rock, Thomas Lennon Play the Cool Dads in 'What to Expect' — EXCLUSIVE PIC
What (Not?) to Watch When You're Expecting
'What To Expect When You're Expecting' Releases Five New Character Posters