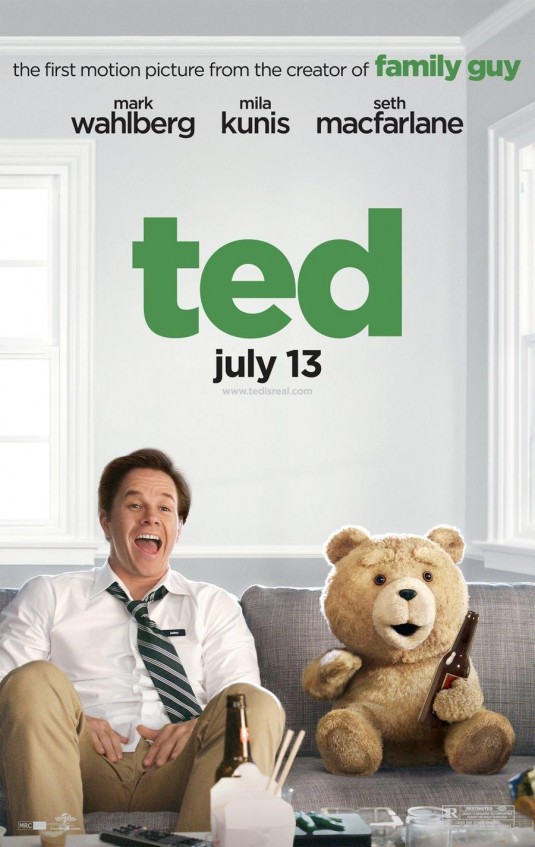 Well, it's official: you can throw out your spiral-bound 2012 planner. You bought one of those too, right?
With G.I. Joe: Retaliation hightailing it out of its June 29, 2012 release date to March 2013 (a move to give Paramount Pictures ample time to convert the movie to 3D), it was only a matter of time before another summer movie slid up into the weekend. Seizing the open slot is Ted, Seth MacFarlane's high-concept comedy starring Mark Wahlberg and a foulmouthed, sex-loving, alcoholic teddy bear. The movie was originally scheduled for July 13, pitting it against Ice Age 4: Continental Drift and the second week of The Amazing Spider-Man, but according to THR, Universal announced Wednesday that the movie would be bumping up to the spot vacated by G.I. Joe.
With a summer overly crowded by superhero event films, the move is smart thinking on the part of Universal. Ted is a hard R comedy without any recognizable brand behind it. Stuffing it between Spider-Man and The Dark Knight Rises wouldn't give it much breathing room. Now, Ted will face off against Channing Tatum's Magic Mike and Tyler Perry's latest, Madea's Witness Protection. Will it fare better against two comedies?
Time to go buy a new planner…
Follow Matt Patches on Twitter @misterpatches
More:
'Ted' Trailer: Mark Wahlberg vs. a Foul-Mouthed Teddy Bear
Channing Tatum, Bruce Willis & The Rock Are Real Life G.I. Joes — POSTERS
Will Mark Wahlberg Ever Be a True Action Star?
[Photo Credit: Universal Pictures ]