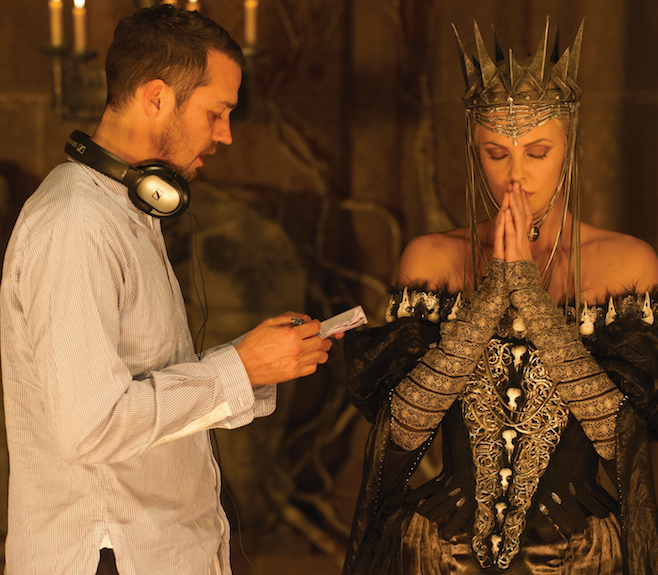 When Rupert Sanders was hired to direct Snow White and the Huntsman, people were left scratching their heads. Rupert who? What had he done? Who was this guy? A quick Google search revealed a handful of commercials, music videos and short films — all viewable at with the click of the mouse. "A lot of [my work] — Halo 3 for instance — is mainly seen online," Sanders tells Hollywood.com. "Agents of studios are always being sent links of things out there, looking for the next voice. I think the Internet definitely helped me." Upon its release, Sanders' Halo 3: ODST trailer racked up million of hits, putting the director on a similar course as fellow Halo commercial helmer Neill Blomkamp (District 9). Suddenly, every producer in town was knocking on his door. I think a lot of what I was being offered were steps in a franchise, or smaller, independent films. To be honest, I wanted to do that first. I wanted to cut my teeth on something smaller. But when Snow White came along, I saw the bones of something that I could really have the opportunity to really play on a large scale, and bring a lot of inventiveness and, hopefully, imagination."
For Sanders, there wasn't much of a transition from Internet spots that clocked in at a few minutes to a live-action, two-hour feature. "Practically, not hugely, you're still making film in the same way," he explains. "What you don't get the luxury of in commercials to work on things, and see them develop, and start to creatively work with them, and go, 'Maybe I'll come back [to] that.' And you can lay down the preparation for that, and come back to it in a few weeks and shoot that scene then. It's really nice. It's a bit more like a sculpture than a one minute sketch." The Halo 3 commercial is particularly striking because of its narrative feel, a payoff that comes from Sanders mission to always find a story, even in short YouTube spots. "It sounds like a cliché, but an image can speak volumes."
When it came time to design and develop Snow White and the Huntsman, Sanders left no stone unturned while searching for inspiration and creative collaborators. Less interested in Dungeons and Dragons-style fantasy, Sanders naturally gravitates towards realist fantasy and medieval history, noting his affinity for Ridley Scott's Kingdom of Heaven and Gladiator, Roman Polanski's Macbeth, and the illustrations of Arthur Rackham and Gustave Doré. Scott's "ability to transport the viewer, to adapt his way of telling a story through so many different genres," was guiding light for Sanders, who wanted to ground the story of Snow White in the real world — magical elements and all. "To me, a fairy tale is fantastical things happening in a real world. That's kind of the distinction. Fairy tales have much more of a moral parable than fantasy. In the case of Snow White, it's understanding our fear of mortality."
But to really give Snow White an otherworldly feel — a universal feel — Sanders turned back to the his own starting point: the web. "The first thing I did was, I started trolling the internet looking for illustrators, or an artist who I felt had the look that I was trying to achieve," reveals Sanders. "I found a great Japanese illustrator, who did a lot of the Enchanted Forest illustrations. I found an Irish artist called Kevin Francis Grey, who has done these beautiful bronzes of figures. I brought him along to design the mirror man with me. I used an amazing Russian illustrator who helped with some of the gothic elements of the queen." Collecting talent from around the world, Sanders employed non-professionals to give Snow White its imaginative look. When the artists finally saw their work realized on screen, everyone identified it as their own. "It's amazing that the Russian guy was saying, 'This is our version of Snow White,' and the Japanese guy was saying, 'This is our version of Snow White.' Every country has that story. It's great to be inspired by artists."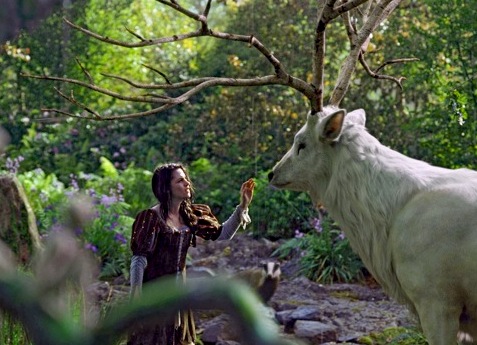 Sanders' reaping of Internet talent didn't stop there. "There's another group of guys that shoot surf videos. They're called "Dark Side of the Lens." I found them on Vimeo. I called up these two guys who live in the west coast of LA, and I'm like, 'Can you come to Paramount Studios and meet?" These guys are amazing. They go out in two wetsuits in the roughest oceans they can find. They did the ocean shots of the waves crashing against these big towers of black rock in the west coast of Ireland." Sandres quest to find the best of the best didn't just involve the visually-inclined either. "For music. I bought an LA band called IO Echo. She actually sings the song halfway through the film that she wrote to the dwarves. A girl called Joanna Gikas, who is the singer of IO Echo. It's great to be able to find people who inspire you, and bring them on board."
Sanders went all in for Snow White, even plucking his best work to best execute the film's many intricate effects. Before getting the greenlight, the director shot a test film that involved pulling off many of the movie's effects practically. "A lot of those images are in the film," says Sanders, "and a lot of that trailer became the real trailer that we reshot with the real actors." Even his previous films were inspiration — watching Sanders' short film The Book of El — Passenger reveals a black oil effect not too far off from a scene towards the end of Snow White. "Anything liquid looks very good in slow motion [laughs]," admits Sanders, who also got a chance to dip his leading lady, Charlize Theron, into a vat of milk. "You can't go wrong with Charlize in sexy, white liquid."
That's the kind of thinking that earns a man 20 million hits.
Follow Matt Patches on Twitter @misterpatches
More:
Snow White and the Huntsman: Pop Up Video Style
Snow White Sequel Focuses on Huntsman...Not Kristen Stewart?
Snow White Designer Talks Kristen and Charlize — EXCLUSIVE
[Photo Credit: Universal Pictures]