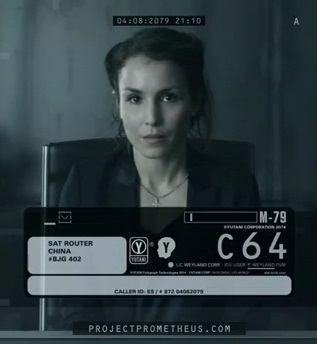 Ridley Scott's Prometheus is on its way to theaters, bringing some of the visionary director's classic elements of sci-fi, horror, and human drama to the screen. The film stars the likes of Charlize Theron, Michael Fassbender, Idris Elba, Noomi Rapace, and Logan Marshall-Greene as the members of an interplanetary expedition to find out where the human race came from.
Unearth hints at the movie's mysterious plot by exploring these clips (but make sure to watch out for facehuggers). Prometheus is in theaters on Friday, June 8.
Theron plays Meredith Vickers, top dog in Prometheus. In the clip below, it seems as though the crew's mission might have been devised with some ulterior motives.
When Elizabeth Shaw (Noomi Rapace), Charlie (Logan Marshall-Greene), and their trusty robot David (Michael Fassbender) head down into the mysterious caverns, things don't go quite as planned.
In a conversation between man and robot, the question about where we all came from gets a little... heavy.
As with most cinematic space missions, this one seems to take a turn for the worse. The much, much worse.
More:
'Prometheus': New Trailer Brings Up More Mysteries — VIDEO
'Prometheus': Noomi Rapace Might Creep You Out — VIDEO & POSTER
'Prometheus' TED Clip: Guy Pearce Proclaims "We Are the Gods Now"