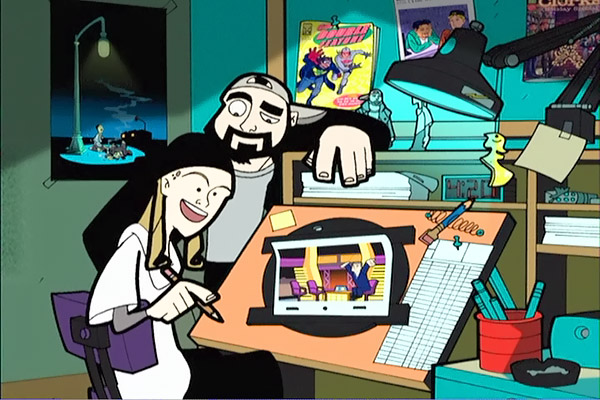 Jay and Silent Bob are striking back yet again — but this time they'll be animated.
Kevin Smith, who plays the latter character (Jason Mewes, lest anyone has forgotten, plays Jay) and originally conceived the duo in his 1994 indie classic Clerks, announced the news during the a recent "Ask Me Anything" segment on Reddit.
"We're cartoon whores here at SModCo," Smith said when asked about Jay and Silent Bob's Super Groovy Cartoon, which will be released in 2003 and, according to Smith, be accompanied by a tour similar to that of his most recent movie, last year's Red State.
It'll be the first on-screen appearance for Jay and Silent Bob since 2006's Clerks II and the first project they've headlined since 2001's Jay and Silent Bob Strike Back. They have, however, received the animation treatment before via the short-lived Clerks TV series in 2000.
[Image: ABC]
More:
7 Reasons to Watch Kevin Smith's 'Comic Book Men' on AMC
Lionsgate Picks Up Kevin Smith's Horror Film 'Red State'