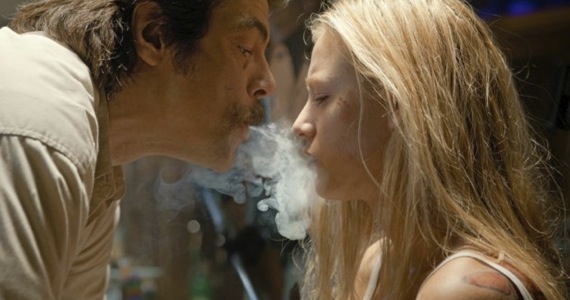 Anyone who has seen the trailer for Oliver Stone's sexy, wild crime-thriller Savages knows what to expect: A lot of guns, a lot of drugs, and a lot of Blake Lively sexily sauntering on beautiful beaches while two very handsome suitors (Taylor Kitsch, Kickass' Aaron Johnson) wait at bay. What the trailer doesn't show is that Savages — despite its hyper-masculine premise and the always formidable presence of Benicio Del Toro — is really about the ladies. "The men in this movie are amazing," says Salma Hayek, who joined co-star Lively at a press conference in Los Angeles last Friday. "But the best thing about it, by far, is the girls."
Indeed, though it may be Del Toro and the boys who are slugging it out over a boutique marijuana business, it's Hayek's character, Elena, who runs the show. Hayek says that playing such a dynamic, powerful character was a wonderful experience, but she also insists that there are many women like Elena who exist in real life. "I actually talked to some people in the cartel that described women that have gotten quite high," she says. "One of them, the husband went to jail, and she took over. Somebody betrayed her, and they took a loss. She took it and she just continued, and the business continued to go really well. The husband came out and he went, 'No no no, that debt has to be paid. That has to be taken care of, because otherwise we don't get respect.' Then he got killed. [My contact] said [women are] actually colder. The guys get angry, and the women are not like that. They're all about the business. They're not about the vendetta; they're not about who is more macho. They're about getting things done — that's why they're not as visible."
But Hayek's knockout Elena, with her blunt-cut bangs and sparking jewels, and is anything but invisible. Stone and Hayek argued frequently about her character's unique aesthetic design, but Hayek always knew from experience that her instincts were correct. "There was somebody that I got to be friends with that was a very strong, powerful woman in Mexico," she says. "There's been a couple of different ones. Oliver said, 'Why do you want to wear the same hair; the same necklace?' I tried to explain to him — these women know they're going to be an icon. They create a character. They don't want to be versatile — they want you to always remember them."
Kind of like how Stone will always remember Hayek. "Salma — she's tough," Stone says with a laugh. "I met her years ago when I did U-Turn. The first time I met her she said, 'You son of a bitch. You didn't even see me. You gave [the part] to Jennifer Lopez!' I was stunned. I didn't know her. Fifteen years later, I went right to her. When Universal said, 'Is she tough enough?' I said, 'Sweetheart, she's tough.'"
Lively's character, an innocent flower-child who gets kidnapped by Elena's cartel, is on the complete opposite end of the criminal spectrum — but their captor-prisoner relationship takes some surprising "twists and turns" (Stone's words). "I'm in love with two men, but there's also a love story between [mine and Salma's] characters," Lively says. "[My character's] need for a mother, and her need for a daughter... I feel like all I've done is play really sexually charged drug addicts lately. I don't know what's wrong with me."
According to Stone, there's nothing wrong with Lively. In fact, the esteemed director has nothing but kind words for his leading lady, who happens to remind him of a Hollywood icon. "She's very elegant and sophisticated," says Stone. "She reminds me of Meryl Streep at that age. If events are good to her she could go all the way. She's got the chops."
Savages hits U.S. theaters July 6.
Follow Shaunna on Twitter @HWShaunna
[PHOTO CREDIT: UNIVERSAL PICTURES]
MORE:
'Savages' Trailer: Blake Lively, Weed and Whole Lot of Violence
UPDATE: Oliver Stone Wants Blake Lively For 'Savages'
Oliver Stone: 'I love marijuana and Ecstasy but not cocaine and Prozac'