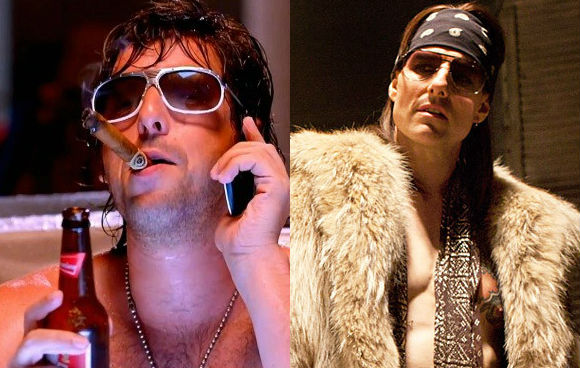 The studios that produce Hollywood's biggest blockbusters are always on the same wavelength. Whether it's meteor disaster movies, animated bug comedies, or revisionist Snow White tales, audiences never get just one. As if they're pulling ideas from some communal think tank, everyone's spinning the latest craze in their own fashion. Hey, as long as they're good!
This weekend sees the release of two comedies with an odd connection: Celebrity burnouts from the 1980s. Rock of Ages costars Tom Cruise as frontman for the rock band Arsenal, the legendary Stacee Jaxx, who we see preparing for a "solo career" aka nowheresville. That's My Boy sees Adam Sandler riding his fame as a child tabloid celebrity all the way to modern day, where he's broke, drunk and... stuck in nowheresville. Coincidence? Pretty much, but it does make for a heated weekend between two of the movie business' biggest stars in a competition of scumbags. Who is the victor? We compare the two:
Cruise as Stacee Jaxx: A Washed Up Icon of '80s Hair Metal
Sandler as Donny: A Washed Up Icon of '80s Pop Culture
Winner: Sandler. Even a washed up rock star like Stacee Jaxx has a legacy of headbang-worthy tunes. All Donny has is massive debt, a swollen ego, and a TV movie recounting the time he impregnated his middle school teacher. And it rarely airs!
Cruise as Stacee Jaxx: Relies on nostalgia by singing "Pour Some Sugar on Me"
Sandler as Donny: Relies on nostalgia by resurfacing the '90s catchphrase "Wassssuuuuuup!"
Winner: Cruise. The beer commercial slogan may not have been that funny the first time, but Cruise's Jaxx is such a rock star dud that he has to cover '80s songs made famous by other hair metal bands.
Cruise as Stacee Jaxx: Mistakenly believes Mick Jagger of The Rolling Stones is visiting him (because that's possible).
Sandler as Donny: Actually hangs out with Vanilla Ice.
Winner: Cruise. Jaxx's ego is so inflated that the mere mention of Rolling Stone magazine has his head snapping up gopher-style, looking around for his famous "friends." Vanilla Ice may be a burnout in his own right, but at least he's a genuine friend to Donny.
Cruise as Stacee Jaxx: Names his pet monkey "Heyman"
Sandler as Donny: Names his son "Han Solo"
Winner: Sandler. Nothing screams "I had a kid star when I was thirteen," like naming your son after a popular sci-fi character.
Cruise as Stacee Jaxx: Drinks 100 year old champagne while peeing on his manager.
Sandler as Donny: Drinks a Budweiser while scaling the side of a building.
Winner: Cruise. Sandler's Donny can always be seen chugging a brewski at an inappropriate time, but Jaxx makes it a point to both guzzle alcohol while acting like a total loser. Downing the century-old bubbly would be a rock star move, but peeing on his manager's foot while doing so is near-hobo behavior.
Cruise as Stacee Jaxx: Sings into a female reporter's butt
Sandler as Donny: Rubs one out to a photo of a grandmother
Winner: Sandler. No explanation needed.
Cruise as Stacee Jaxx: Proves even a drunk rocker is capable of true love.
Sandler as Donny: Proves even a drunk do-nothing is capable of turning everyone around him into drunk do-nothings
Winner: Sandler. In the last act of Rock of Ages, it's clear there's hope for Stacee Jaxx's solo career. In the finale of That's My Boy, one wonders why anyone gives Sandler's Donny two seconds of their time. In some cases, it's "once a burnout, always a burnout."
Who is the biggest burnout? Sandler's Donny by a hair. A slimy, greasy, unkept hair.
="font-style:>
More:
Tom Cruise's Hair: The Defining Box Office Factor?
Why 'That's My Boy' Is the Right Move for Adam Sandler's Career