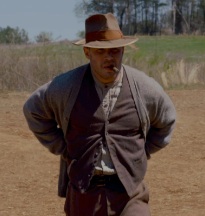 Well, well, well, it looks like we have a whole different set of lawwwbreakers on our hands don't we, Matthew McConaughey? While we're not sure how Dallas would handle this rowdy crowd (something tells us a shirtless serenade would do no good here) the latest trailer for the good, ol' fashion crime Western Lawless, is bound to get moviegoers riled up again. 
Of course, it might just feel like another tease. Lawless, the
Tom Hardy
/
Shia LaBeouf
/
Jessica Chastain
/
Guy Pearce
/
Mia Wasiskowska
-starrer which was originally titled
The Wettest County in the World
(the title of
Matt Bondurant
's novel upon which the film is based) and has already had a delayed release, now has a shorter preview. (Isn't it supposed to be the other way around?) 
While the original trailer gave viewers a little more insight to the true-life story of the infamous bootlegging Bondurant brothers (not to mention way more scenes involving Chastain, Wasikowska, and Hardy's
Dark Knight Rises
co-star
Gary Oldman
) this time around the message is clear: this is going to be one helluva violent movie. Tommy guns, bloodshed, and explosions. No wonder these Prohibition-era fellas have been dubbed "the worst thing ever to hit Franklin." 
Lawless, featuring the other bad boys of summer, will finally hit theaters on August 29. Watch the new trailer here: 
More: