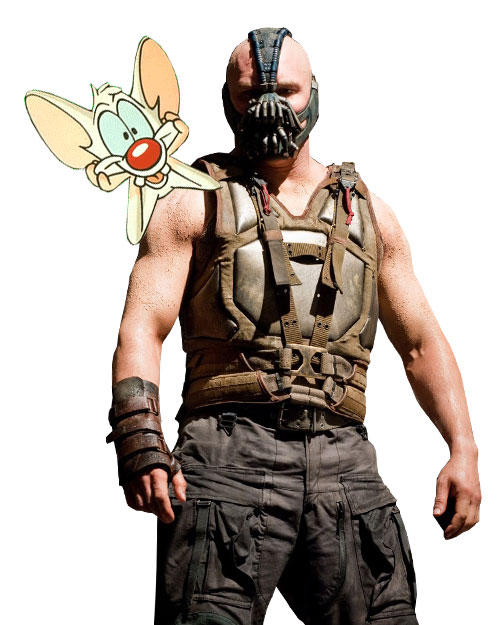 It's Pinky and the Bane! Pinky and the Bane! One is insane and the other's... insane too! Okay, so that's not really a series, but, following and endless slew of trailers and TV spots leading up to July 20's release of The Dark Knight Rises, we can't help but see the anticipated finale's foe, played by Tom Hardy, everywhere we turn. (Can we blame him? After all, the masked man is even more recognizable than Dark Knight's Two-Face, and that guy had two faces to recognize!) 
So, in celebration of the franchise villain (who maybe/sort of/I guess we'll find out might be responsible for the possible death of Batman in The Dark Knight Rises), we decided to pit Bane in the unlikeliest of places, far, far outside of Gotham. And now, we can't help but pine for the existence of another Bane vehicle, Snakes on a Bane. Make it happen, Hollywood!
More:
Dark Knight Rises: New Clip... and a Catwoman Spinoff?
Dark Knight Rises With Bane for IMAX — POSTER
Dark Knight Rises Notes Stoke Possible John Blake/Batman Connection