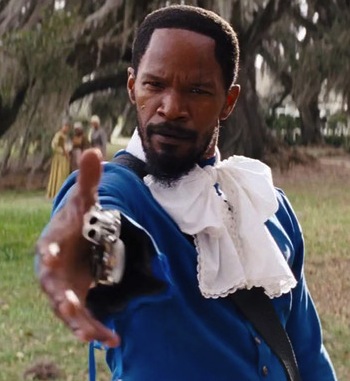 Twenty years ago, an independent film from an unknown director appeared on the scene and immediately launched a legend. The film was Reservoir Dogs, and the soon-to-be filmmaking prodigy was Quentin Tarantino. Flash forward to a more contemporary setting and the release of each new Tarantino film has become a celebrated event. The man is an auteur of the highest regard and much of his acclaim has been a byproduct of his ability to bring out the absolute best performances from the actors he painstakingly selects. Often times these actors are not those who would immediately jump to mind as being the apt choice. But one need only look at what he was able to do with John Travolta in Pulp Fiction to understand that Tarantino knows precisely what he's doing.
This Christmas, we'll see Oscar-winner Jamie Foxx (Ray) get his moment in the QT spotlight when he headlines Django Unchained. The film is the story of a slave, Django, taken on as an apprentice by a bounty hunter; promised his freedom if he can help track down a pair of ruthless outlaws. All the while, Django is also on the trail of his wife who was kidnapped by a sinister, eccentric plantation owner played by Leonardo DiCaprio.
Speaking to Foxx in a roundtable interview after Django Unchained's wildly successful panel at San Diego Comic-Con, the actor had plenty to say about his role, his costar Kerry Washington, and his longtime-coming opportunity to work with Tarantino. The first question was possibly the most routine. So often actors are asked about their toughest scene to shoot. When the question was presented to Foxx, he humbly deferred to his costar.
"The most courageous person in this movie is Kerry Washington," said Foxx. "You do something bad to guys, that's sort of to be expected. But when Kerry had to take lashes, that was the toughest scene for me. Quentin played music in-between takes of this scene. So I asked him to play this song by gospel singer Fred Hammond." At this point, Jamie began to briefly ply his trade as a singer as he vocalized the lyrics, "no weapon formed against me shall prosper." If you ever suspected his silk-like voice was the product of studio magic, put that misconception to rest right now. "That song was playing on the speakers set up through the whole place. Some of the extras, one woman from New Orleans who had never been on a set before…she knew that song. She began to rock back and forth with her child. As Quentin was shooting, he was wiping away the water that had filled his eyepiece. It was very emotional."
Transitioning from here to talking about his director, Foxx used a descriptor we wouldn't have expected. "Quentin's a hip-hop artist, I told him. People keep talking about seeing surprises in the various clips, and that's because of Quentin's hip-hop.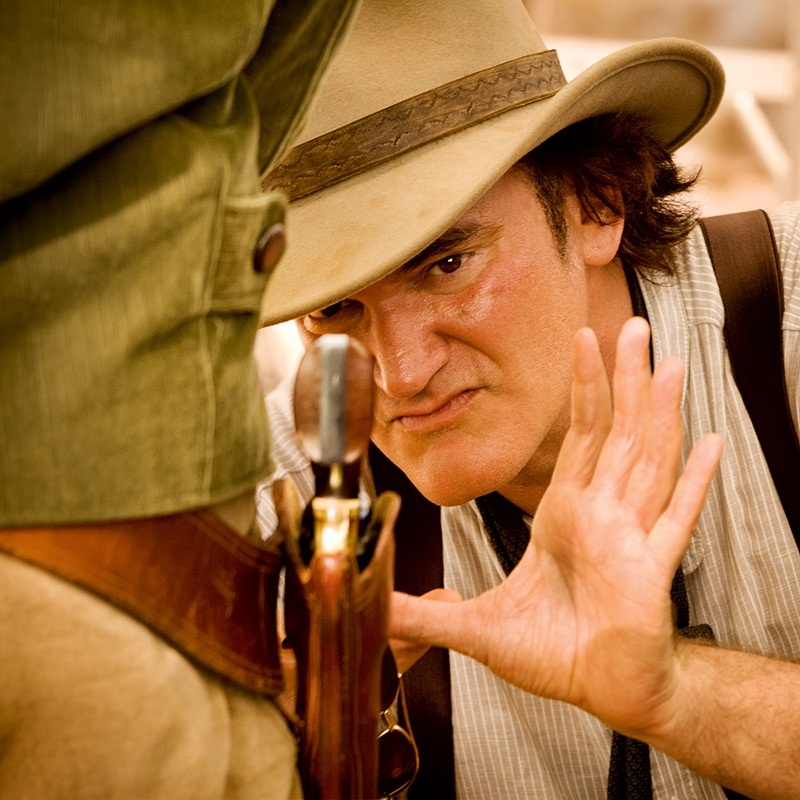 A hip-hop artist will drop a single, then leak something over here, and drop something over there because he knows it's hot. He's on the spot with the way he does things. The way his dialogue works, it's musical."
Further perpetuating the hip-hop comparison, Foxx spoke highly of Tarantino's wild improvisational skills on set (possible spoilers ahead). "On the spur of the moment, he rewrote the end of the movie. He blows up [a] house, and says 'my ending doesn't work.' I said, 'what are you going to do with it?' He goes, 'gimmie a second.' And he's walking on the rubble like this—(imitates some sort of aggravated beast). Then he goes, 'I got it.' He goes to his trailer and comes back with the end of the movie. It was dope. Nobody does that. When a writer writes a movie, he goes and gets a cabin. Usually he's there for nine months and comes down like Moses with the tablets. This dude just went in his trailer. That's the difference in his musical quality. He's riffing, but he's riffing as a genius like Mozart."
A different ending is one thing, but Foxx is quick to mention that Tarantino is also up to the task of topping himself "Are you serious? I don't want to cuss, but…crazy. There's just no way to describe it. There are talented people and there are God-gifted people. He's God-gifted. There was something that was troubling him, he went away, and when he got it, he came back like 'I got this muthaf*****.' When you see the ending, I don't want to give it away, it's classic. It ends up with myself and Samuel Jackson at the very end of the movie."
Speaking of, what did Foxx think of working with Tarantino mainstay Samuel L. Jackson? "Jackson was housing the part. People wouldn't go to sleep. I know Kerry will probably tell you, we wouldn't go to sleep if we knew we had to act against Sammy Jackson in the morning. He was kicking everybody's ass. So Quentin made the ending appropriate. "
Foxx's short musical refrain still lingering warmly in our ears, we wondered if he would get to do any singing in the movie. He disappointed us with his response. "I sung, but I sung badly…on purpose." We wondered if pretending to be a bad singer, given Foxx's abilities, was difficult. "Yeah, it was. I had to do it, but it was only a little bit so it was cool. It makes sense in the movie."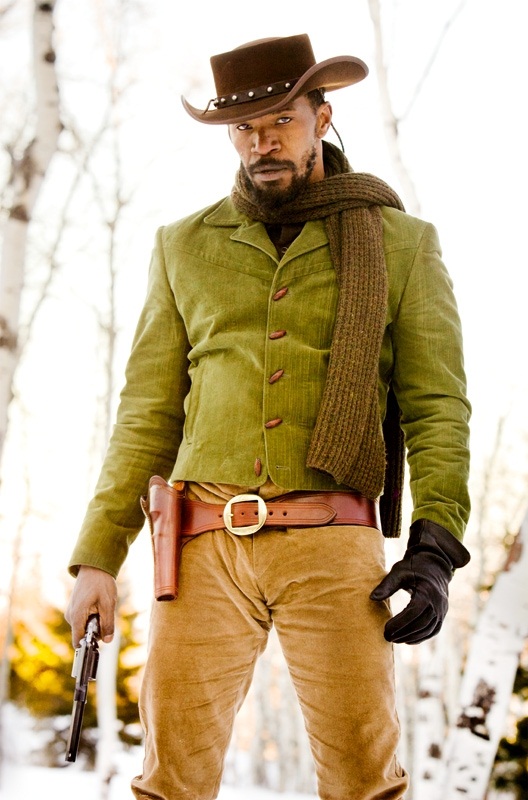 Well, how about a song for the soundtrack, Jamie? "Yessir! I wouldn't sing it, but I already wrote something. I ran into Rick Ross and told him he should come by the set. I know Quentin doesn't do original stuff, but Django is hip-hop, it's a different thing. So Rick Ross shows up, huge fan of Quentin. I told him, if you're gonna write a song for Django Unchained, should say these words…" And Foxx proceeds to lay out the lyrics that will comprise what could be the first original song on a Quentin Tarantino soundtrack…
"I need a hundred black coffins
For a hundred bad men.
Dig a hundred black graves
So I can lay they ass in."
Knowing Quentin's propensity for paying reverence to his favorite exploitation and otherwise obscure films, we asked Foxx if there were any films he was assigned to watch in preparation for this role. "The original Django. It was amazing. And to actually have the original Django himself (Franco Nero) in the movie. I don't know if you've ever met him, but he was the biggest star on that set. And for him to give his blessing…wow. And I think this film follows true to Django, and I think that's what's going to be the pleasant surprise for people. It's a western, and it stays along the lines of a western that just happens be set against the backdrop of slavery. Slavery almost becomes secondary at a certain point. He starts as a slave, traditional slave story. But once he becomes a bounty hunter, now it's about revenge and about getting his girl."
One of the most compelling aspects of many westerns is the love story. We asked Foxx about reuniting with Washington (the two worked together in Ray) to create that love story. "Kerry's a rider. She's not a daffodil; she's not weak. She's in there with the big boys and giving a performance that makes the movie move. If it was just simply about revenge, you'd tire with it. But the fact that this man just wants his wife and the way she holds on for him, is just amazing."
Foxx couldn't help but close the conversation by praising his director. "All I can say is thank you to Quentin Tarantino. I told him that if he gets married, I'd sing at his wedding. I'll deejay his bedroom if I need to. In this business, it really does come down to moments like this; moments that change your career. This movie is one of the ones, I think, will change the trajectory of where I was going. So thanks to him."
More:
Comic-Con 2012: 'Django Unchained' Shows Off Bloody Fun with Oscar Potential
'Django Unchained': DiCaprio & Foxx, Badasses of the Old West — PICS
'Django Unchained' International Trailer: Bigger & Bloodier! -- TRAILER
[Photo Credit: Weinstein Company]

Jennifer Lawrence Bikinis in Hawaii (PICS)

Best and Worst of the Thanksgiving Parade