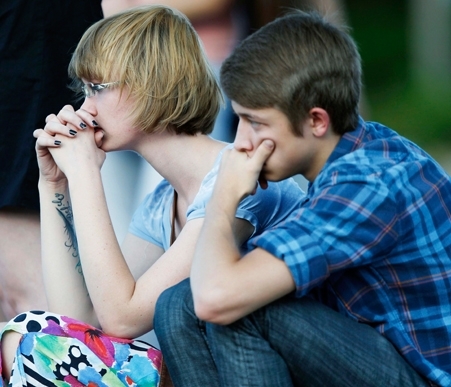 After a full day of investigation surrounding the Aurora, Colo., shooting that took place during a midnight screening of The Dark Knight Rises, the local police department held a second press conference to update the public on the information they have accumulated thus far.
Earlier reports described general details surrounding the event: There was allegedly a single gunman named James Holmes, 24; a former graduate student at the University of Colorado Medical School who had no criminal record (save for a single traffic summons). It was also reported that Holmes entered the theater and allegedly "set off two devices to distract the crowd" by releasing irritants or smoke. Aurora Police Chief Dan Oates described the shooter as being dressed in all black, wearing a ballistic helmet, ballistic vest, ballistic leggings, throat and groin protectors, black tactical gloves, and a gas mask.
New developments into the numbers show that authorities' original numbers were off — but only by one. The shooting left 70 shot: 12 dead, and 58 wounded (it was originally reported that there were 59 wounded). Of those dead, 10 of the 12 were pronounced deceased on arrival. The remaining two died in the hospital.
Oates explained that. "we are hopeful in the next hour we can get the 10 confirmed identification," so that officials may begin the process of meeting with those families.
Also noted were that 30 victims were still in the hospital. Eleven are in critical condition. Of the victims, a handful ("a small number," according to police) were not hit by gunfire but suffered other injuries. Additionally, one person was hit by a bullet through either a wall or a door, but he would not specify. Oates also confirmed that all of the bodies of the victims were removed from the theater by 5pm this afternoon.
Oates confirmed that it took Holmes 60 days to procure four guns via legal means in the state via shops in the local area. Through the Internet, he purchased over 6,000 rounds of ammunition — more than $3,000 for the two glocks, along with multiple 100-round gun magazines for the larger two weapons. And while Oates said he "cannot answer if the gun is automatic or semiautomatic," he did say that Holmes was firing at "50/60 rounds in one minute, a rapid pace of fire." Again it was confirmed that all of these items were legally attained.
The biggest developments were arguably surrounding the booby-trapped apartment Holmes left behind.
Oates reported that they have evacuated five apartment buildings total, and that the apartment Holmes lived in is a "very vexing problem ... never seen anything like what the pictures show us in there." Oates himself saw an "awful lot of wires, trip wires, jars full of ammo, liquid, water rounds" in these images. Because of this, it produces "lots of challenges to get in there safely." Due to such ornate barricades, Oates confirmed that the apartment itself will not be entered today. "People will be going in tomorrow. We're bringing in extra consulting resources," he said. He hopes to have the disabling of the apartment resolved at that time. In the meantime, the families are being relocated to an area high school to spend the night.
Oates was also mum regarding any possible motive, explaining that he would not speak to what Holmes may or have not have admitted during his time in county jail. He confirmed that the suspect was in the area jail and would be arraigned at 8:30am on Monday morning in district court. And while he did confirm that Holmes has an attorney, Oates would not comment on the suspect's demeanor upon entering the jail.
Oates, after getting a bit emotional over a question regarding the mental stress endured by his officers, explained that the "most important thing is that there is justice for the victims in a court room," not the press.
There will be an additional press conference tomorrow at 2pm MST for any developments incurred overnight. A new tip line has been created for those with information via Crimestoppers: 720-913-STOP, as well as a General Information Line: 303-739-1862 for those seeking information about friends and family members involved.
Prior to Chief Oates taking the podium, a weary Colorado Governor John Hickenlooper commended the local and federal officials who have assisted or voiced their support to the Aurora community, including President Barack Obama. "It's been a long day," he explained. "This is an act that defies description ... filled with an anger that can't find focus. The challenge for all of us is to recognize we have to move past that." Continuing, he said "We're not just going to 'let it happen to us,' we're going to push back." After meeting with some of the victims in the local hospitals, Gov. Hickenlooper proclaimed that we must "rise back and lift ourselves above this."
[Photo Credit: AP Photo]
More:
Photo of Alleged 'The Dark Knight Rises' Shooter, James Holmes
'Dark Knight' Shooting Press Conference: 71 Shot, 12 Dead, 59 Wounded