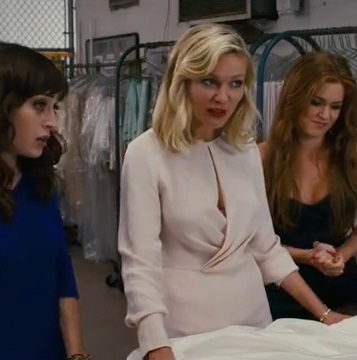 The most memorable wedding in recent cinema came from Bridesmaids: a movie that managed to deliver both a heartwarming and emotionally wrought exploration of adult friendships and a barrage of comedy, ranging from the nuanced to the scatological. Ultimately, Bridesmaids, which has been touted as an important movement in the realm of female-centric comedy, pleased its audiences with wacky, but good-natured humor and characters. But here's another way that might have gone...
Bachelorette isn't out to prove how powerful and meaningful friendships can be. From the looks of the below trailer, there isn't a whole lot in the neighborhood of "heartwarming" existing between lifelong friends bride-to-be Becky (Rebel Wilson, herself a Bridesmaids alum) and the constituents of her wedding party: Regan (Kirsten Dunst), Katie (Isla Fisher), and Gena (Lizzy Caplan). The latter three are bitter, selfish, hedonistic and still latching onto their more exciting youths as they lament the fact that their old pal is getting married. In terms of outlandish comedy, Bachelorette looks to rival Bridesmaids. And in terms of character, it might measure up as well. It's just a very different, much darker and meaner type of character we're dealing with here.
Check out the trailer below, which also features male players James Marsden and Adam Scott.
More:
Sundance 2012: Don't Confuse the Dark 'Bachelorette' with 'Bridesmaids'
Real Housewives in Real Life: A Chat About 'The Queen of Versailles'
New 'The Master' Trailer: A Study on Quiet Creepiness — VIDEO