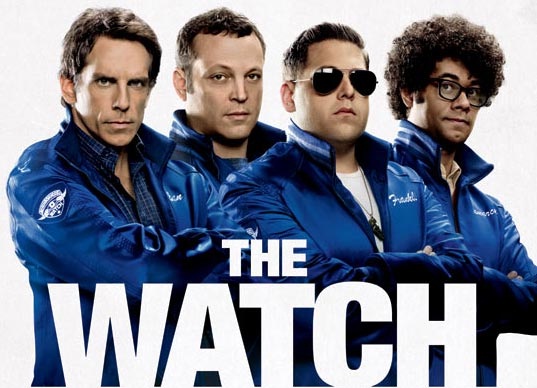 On the surface, The Watch is a movie about the human race defending itself against alien invaders. But at its core, it's really just a movie about four guys, sitting in a car, cursing and talking about sex and bodily fluids. But really, isn't that what every movie is about, at its core?
Director Akiva Schaffer (of Saturday Night Live and Lonely Island) introduces the below gag reel for his upcoming comedy, which stars Ben Stiller, Vince Vaughn, Jonah Hill, and newcomer to acting Richard Ayoade as a foursome of wannabe policemen who take on the role of neighborhood watchmen in an attempt to keep their town safe... or just feel a rush of power. Instead, what they find themselves dealing with is a mysterious alien invasion, that challenges any semblance of competence they might have had in the first place.
Proving that the movie is more about the laughs than either the crime or the sci-fi aspects, director Schaffer has compiled an assortment of outtakes, upping the ante on the sexual and scatological humor. If that's your speed, check it out! The movie comes out on Friday.
[Photo Credit: 20th Century Fox]
More:
Burt Ward on Robin: What It Takes to Bring Batman's Sidekick to Life
'Bachelorette': A Much Darker, Meaner 'Bridesmaids' — TRAILER
'Aloha': Is Jonah Hill in Ben Stiller's Frat Pack Now?