In a movie that was already looking like one of the most interestingly-casted films we'd heard of in awhile, Robert Rodriguez added yet another outlandish name to his Machete Kills cast list: Lady Gaga. Now, if having a cameo role in one of Rodriguez's exploitation films isn't a natural progression for her image and general aesthetic, we're not sure what is, really. Playing a character named La Chameleón, Gaga joins fellow attractive ladies Sofía Vergara and Jessica Alba, as well as a couple scandalebrities like Charlie Sheen, Mel Gibson, and Michelle Rodriguez. Eyebrows, they are a-raisin'. And how does her character look? Well, see for yourself: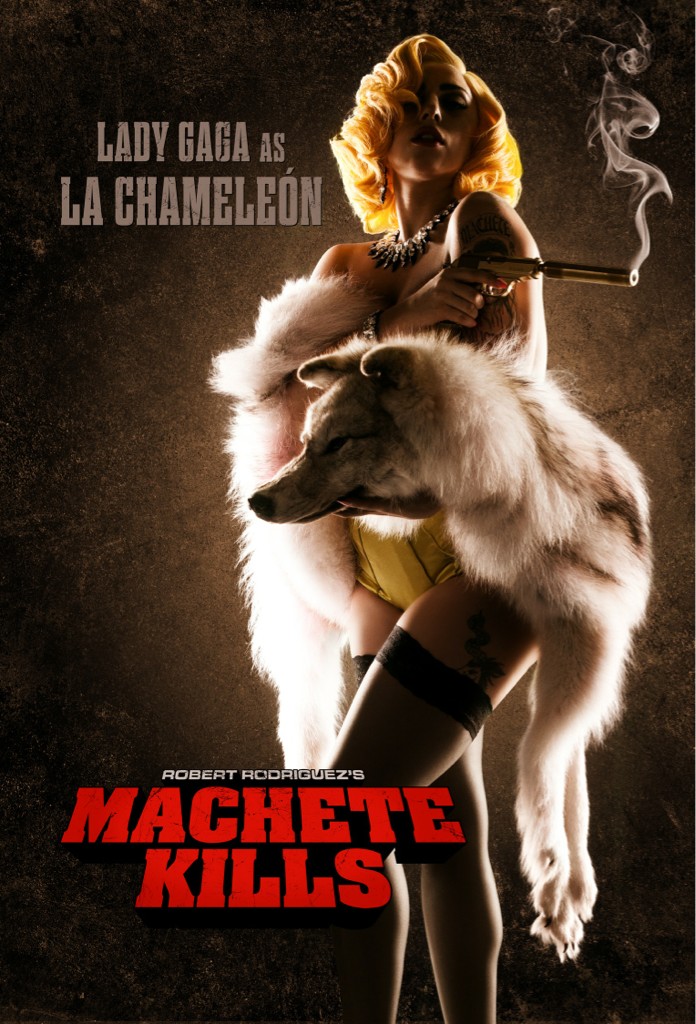 Dang, Gaga! They certainly can't call this yellow mellow. Not when you're packing heat like that. PETA are probably minutes away from a s**t fit, but it certainly leaves us wondering what sort of woman has the, well, balls to waltz around with a head-on wolf fur in life. We're sure some of you will be howling (can't help myself, sorry) over this image for awhile. Though we now have more questions then answers about her character's role within the film. According to productions notes, there is another similarly-named character listed in the film: La Camaleon, and he (yes, HE!) is played by Cuba Gooding, Jr. What is going on here? Color us very intrigued, Rodriguez.
Either way, the choice of project falls very much in line with Gaga's world. Who could forget her Tarantino-homage-tinged Telephone video (Quentin Tarantino and Rodriguez are notorious buddies, plus Gaga featured the "Pussy Wagon" from Kill Bill in the video)? Homegirl is certainly known for her over-the-top drama and performances: both things that work very well in the exploitation scene.
Check out what Rodriguez has to say about Gaga below.
I just finished working with @LadyGaga on @MacheteKills , she kicked SO MUCH ASS! Holy Smokes. Blown away! yfrog.com/kezw3dnj
— Robert Rodriguez (@Rodriguez) July 26, 2012
Gaga also took to Twitter to discuss her excitement on her first movie role:
Yes its true, I will be making my debut as an actress ln the amazing MACHETE KILLS BY @RODRIGUEZ IM SO EXCITED!!! AH! Filming was insane.
— Lady Gaga (@ladygaga) July 26, 2012
Does Gaga's surprise role in the film leaving you wanting more, or totally over it? Let us know in the comments below!
Follow Alicia on Twitter @alicialutes
More:
Mel Gibson Joins 'Machete Kills': Can Robert Rodriguez Redeem Him?
Jessica Alba Reveals Her 'Machete Kills' Snapshots — PICS
Charlie Sheen is Going to be President