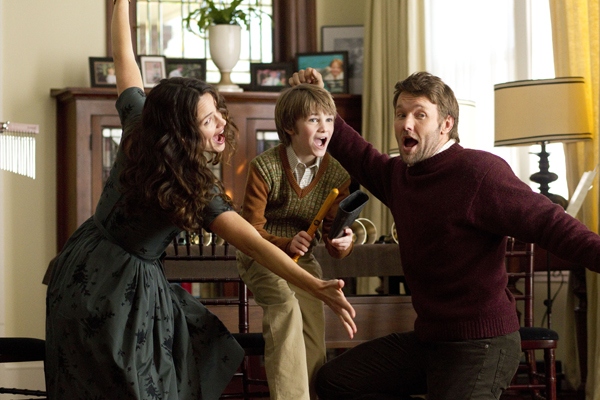 The tagline for Disney's
The Odd Life of Timothy Green
is "Once you meet him, you'll never be the same." What the tagline really should be is, "Once you interview him, you'll want to hug him and never let go." Last week,
Hollywood.com
sat down with the boy who brought Timothy Green to life,
CJ Adams
, and we're still smiling. Seriously, it's starting to hurt. Adams' onscreen dad 
Joel Edgerton
 says this is a common side effect after meeting the young, yet insightful actor. Edgerton gushes, "He is a very glass half-full kind of kid." We also had the chance to talk with Edgerton about his lovely wife in the movie,
Jennifer Garner
,
and were surprised to learn that the Australian actor believes he was "more qualified" than Garner to take on the role of a parent in this movie. Let's pull up the stats shall we? So far the kid count is Garner: 3, Edgerton: 0. Hmm…   Check out our full interviews below in which the surprisingly mature Adams talks candidly about the important things in life like family, friendship, perseverance, and macaroni & cheese. Plus, Edgerton clears up the question that everyone is dying to have answered: Is Garner
really
as sweet as she seems? The answer may surprise you.
The Odd Life of Timothy Green
sprouts into theaters Wednesday, August 15.
Follow Leanne on Twitter @LeanneAguilera
[Photo Credit: Disney]
More:
'Odd Life of Timothy Green': Jennifer Garner's Adorable Behind-the Scenes Story — VIDEO
A Very Whimsical 'The Odd Life of Timothy Green' Trailer
Disney Has Planted 'The Odd Life of Timothy Green' Poster