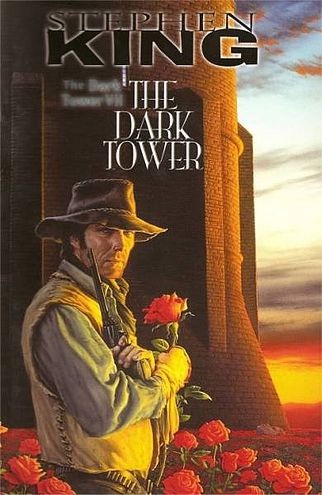 The true horror story involving Stephen King's Dark Tower anthology exists beyond the confines of the series' pages — it envelops producers, studios, and fans, and chronicles the tragic plight of the books to get the screen adaptation for which they've been vying for years. 
Initially, Paramount Pictures had the rights to turn King's
Dark Tower
into a movie, but sacrificed them in favor of alternative projects.
Then came Universal
, which announced its
DT
movie in 2010. By then, names like
Ron Howard
and
Bryan Grazer
(Imagine Entertainment partners) were attached;
Akiva Goldsman
 has since been named as screenwriter. Some time after Universal
dropped the material
, Warner Bros. swooped in and
picked it up
. "Could this be the one that holds?" King fans all begged (that's how they talk). Unfortunate news for all hopefuls of a
Dark Tower
 on the big screen:
The Hollywood Reporter
reveals now that the Warners have also abandoned their involvement with the project.
Why doesn't anybody want to make this movie?
Hope is not lost entirely, though:
Deadline
reports that Media Rights Capitol is expressing serious interest in the adaptation venture. But it's difficult to avoid discouragement. And it begs questions about the lasting fertility of the author's writing as far as the movie industry goes. See, the most recent Stephen King adaptation to be released in American theaters is
The Mist
, which came out in 2007 (based on the 1980 novella). Five years might not seem like an incredibly long hiatus to stand between two feature films derived from the works of one author, but it's a lifetime in the perspective of King's big screen history. The 1980s saw eleven King movies open theatrically; the 1990s: fifteen; and between 2001 and 2007, six of the prolific writer's stories were turned into major motion pictures. But our country's cinema over the past half a decade has been devoid of King's literature. There are a handful in the works:
Kimberly Peirce's
Carrie
remake is shooting presently (with
Chloe Moretz
and
Julianne Moore
as the White women), and
Deathly Hallows
director
David Yates
has been named in attachment to
a film series adaptation of The Stand
. Even a
The Shining prequel
has been mentioned. And while these projects might well see the light of day,
Dark Tower
continues its stroll through purgatory. Why? It's a mystery, really. The novel series has as great a fan base as any of King's other works; it is perhaps revered to an even greater degree than most others are, in fact. But like
Terry Gilliam's
The Man Who Killed Don Quixote
or
Richard Williams'
original imagining of
The Thief and the Cobbler
,
Dark Shadows
seems to be a terrific prospect with very bad fortune. [Photo Credit: Michael Whelan]
More:
Kevin Costner to Assemble Tom Clancy Characters 'Avengers'-Style
How 'Perks of Being a Wallflower' Author Did It All for the Movie
Ewan MacGregor, Naomi Watts Prove 'The Impossible' is Possible — TRAILER