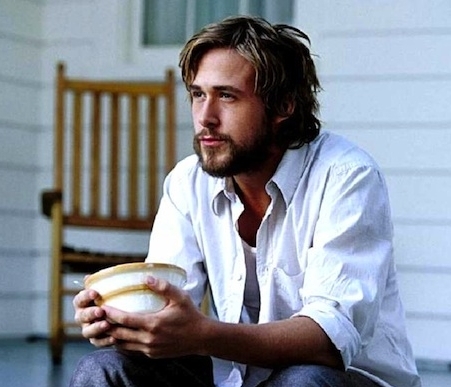 In an era of magic, in a land up above, there was born a man with the soul of a dove, the face of a fox, and the will of a lion. He took the form of a gosling — the world called him Ryan.Someday, that's the bedtime story you'll be reading your grandchildren. We are living in a time where heroes are few — the era of knights, princes, sorcerers, and adventurers has long since passed — but Ryan Gosling upholds the spirit of everything embodied by everyone's favorite fairy tale figures. The man is pure magic, imbuing every project he takes on with a special kind of charm and vigor that has helped to make him one of the most beloved actors in Hollywood.He came down from his kingdom to bring joys to our world; bringing The Notebook, Half Nelson, and Lars and the Real Girl. His movies were thrilling, his performances so fine. Especially in that sad one, Blue Valentine.But Gosling hasn't done enough just yet. Yes, we love him as an actor, a celebrity, a renegade warrior, a Mickey Mouse Club graduate, and an addictive meme. But he's striving for a new position now: writer/director. Gosling has opted to pen the script and get behind the camera for an upcoming feature film titled How to Catch a Monster, which has Christina Hendricks attached to star. And no, this does not appear to be one of those misleading, metaphorical "monster" titles, like Monster's Ball. The movie is a bona fide fairy tale.One day he decided, "I must give the world more!" His whimsical vision was never a bore. So he called up Joan Holloway, whom he knew from Drive, and said, "Let's make a story that will really come alive."According to Indiewire, Marc Platt Productions and Bold Films have hired Gosling to bring this fantastical new tale to life. The story will feature Hendricks as a single mother of two who becomes enveloped in a dark, magical underworld, while her teenage son unlocks an underwater city. Imagination running wild... we'd expect nothing less from the man who claims to be "in a relationship with Disneyland."
Seriously, Gosling and a fairy tale project are perfect for one another. The dude is pulled straight out of the enchanted forest locale, with the jawline and dreamy eyes of a Disney prince. But the similarities aren't purely superficial — Gosling is, at his very core, a fairy tale hero. Think about it...
He's got a loyal steed who follows him through every adventure!
He swoops out of nowhere to fend off evildoers...
...assuming his mild-mannered alter ego immediately afterward (maybe he's also a comic book hero?). 
And did we mention this?
And we all lived happily ever after.
[Photo Credits: Radius-TWC]
More:
Hey Girl, Ryan Gosling Wants You to Color Outside The Lines
The Pros and Cons of Ryan Gosling