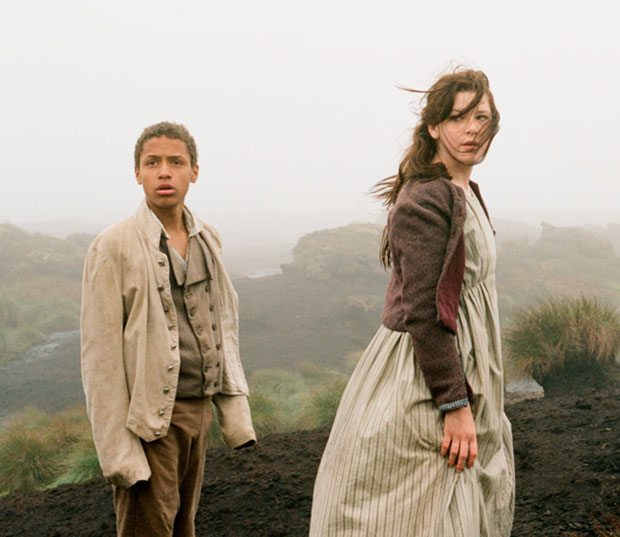 Before there was Walter White and Dexter Morgan, before Stringer Bell and Tony Soprano, there was Heathcliff. The leading man in Emily Brontë's classic novel Wuthering Heights was one of fiction's first antiheroes, and his story of passion and revenge has stood the test of time. The novel's latest cinematic adaptation, from Fish Tank director Andrea Arnold, opens in limited release this October. If the trailer (which premiered exclusively on Vulture) is any indication, the film uses a sweeping landscape and muted palette to viscerally evoke the source material's pain and ecstasy.
England's windy moors — unforgiving, callous, and cold — provide the perfect setting for Heathcliff and Catherine's ill-fated love, and upon watching the trailer you can almost feel the wind whip through your bones. Heathcliff and Catherine's tale may not be happy, but it is full; full at first of childhood innocence, then of betrayal, and, ultimately, of despair. And this trailer hits all of those notes.
The trailer opens with a heartbeat and a question. "Will you forget me?" our heroine asks, to which Heathcliff responds, "I could no more forget you than myself." Even those unfamiliar with Wuthering Heights' story know from this opening alone that these two characters have an intense bond. As children, the trailer tells us, the two entwined lives would play together and suffer together. The cruelty that Heathcliff faced — at the hands of his adopted family as well as Catherine herself — is keenly felt. With each lash of the strap, the audience winces along with Heathcliff. The trailer's greatest strength is that it allows us to feel sympathy for Heathcliff. It shows us that, like Frankenstein's monster, Heathcliff's brutality is a product of his upbringing.
The film's two lead actors, James Howson as Heathcliff and Kaya Scodelario as Catherine, seem more than capable of handling the emotional depth their characters require. And their young counterparts, Solomon Glave and Shannon Beer, seem equally up to the task. Judging from the trailer (which we know is risky business) this film has the odds stacked in its favor. A great director, a great cast, a stunning setting. We can only hope that the film lives up to the high bar it has set for itself.
Follow Abbey Stone on Twitter @abbeystone
[Photo Credit: Agatha Nitecka/Oscilloscope Laboratories]
More:
TIFF 2012 Trailer Gallery: First Looks at the Year's Most Prestigious Films
'On the Road': Kristen Stewart Leads Trailer Worthy of Jack Kerouac
'The Company You Keep' Trailer: Robert Redford & Susan Sarandon Are Terrorists