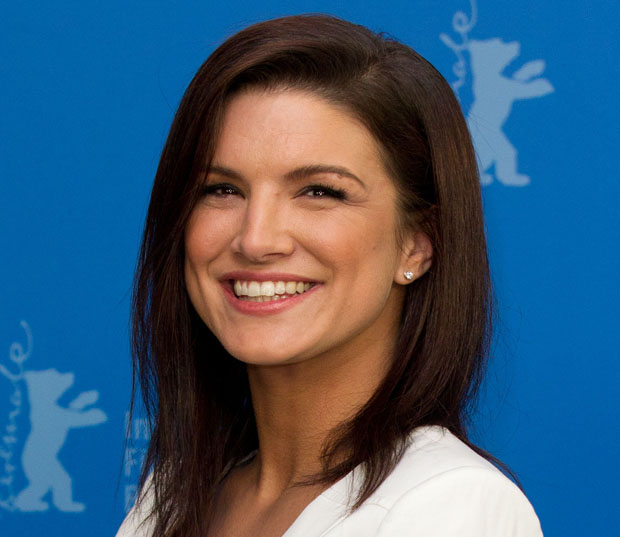 One down, eleven to go. That's right, one of our dream choices for a lady Expendables movie is actually going to be taking part in the action: Haywire star Gina Carano has signed on for an upcoming all-female take-off on the star-studded franchise. According to Variety, the company backing the project 1984 Private Defense Contractors, "remains in talks with several prominent actresses affiliated with the action genre in addition to Carano". (Pssst, check out our ideas!) 
Carano's inclusion in the women's take on The Expendables is all but solidifying the 30-year-old's transformation from butt-kicking MMA star to full-fledged action heroine with some serious street cred. She's already got a Soderbergh film on her resume, one in which she beat the ever-living tar out of some of 2012's biggest stars, including Channing Tatum and Michael Fassbender. 
Even better, by the time the full female cast assembles she will already have had experience with a box office-friendly franchise: Carano is starring in the upcoming sixth — that's right, sixth — 
Fast and the Furious
flick titled
Fast Six
. (Though, in my mind, it's called
The Fa6t and the Furi6
). 
Worldwide, all five of the Fast and Furious movies have collectively earned over $841 million, so Carano is hitching on to one hell of a ride. With Carano as the first big name attached to this Expendables-inspired female action movie, hopefully other stars will quickly follow suit. Because, in case you missed it, women are one heck of a force to be reckoned with on-screen and off. 
Are you just as stoked as we are that, despite Haywire's misfire at the box office Carano still looks to be happening in Hollywood? Moreover, are you just as pumped that this lady
Expendables
thing is actually coming to fruition? Sound off in the comments section!
[Photo credit: WENN] 
More: