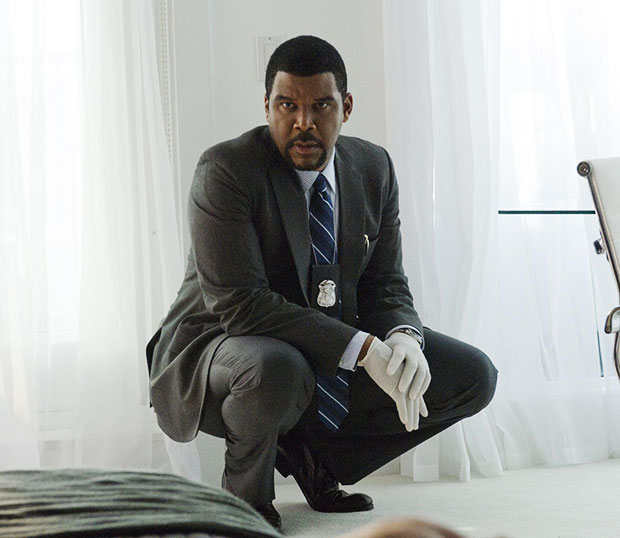 Many have attempted to "crack" Tyler Perry. Figure out the man's grand plan. Predict his career trajectory. But with the upcoming release of Alex Cross, pigeonholing the multifaceted Hollywood player into a defined "type" looks fairly impossible.
Hollywood's current Renaissance man is a writer, a director, an actor, and a mastermind of the "Tyler Perry" brand. Perry started in theater, writing, rewriting, and staging a handful of plays that turned his infamous "Madea" characters into a national sensation and Perry into a certifiable (and marketable) talent. In 2005, Perry finally got a crack at the big screen. His first film, Diary of a Mad Black Woman (the only Madea adaptation to be helmed by another director), was produced for a paltry $5.5 million and went on to gross nearly $50.6 million in the United States.
Until now, Perry's career has been focused on owning creative control. After the success of Diary of a Mad Black Woman, Perry set himself up as director of his next film: Madea's Family Reunion ended up an even bigger box office win with Perry in the driver's seat, grossing $63.3 million. Since Family Reunion's debut in 2006, Perry has directed 11 other feature films, which have collectively grossed nearly $636 million domestically.
Perry's writing and directing style is hyper-specific, the themes of his films all revolving around a similar way of thinking. For that, he's taken criticism, with major directors lambasting him for his brand of entertainment. But whether a person sees eye to eye with him is besides the point — Perry's commitment to his gut puts him in the same league as divisive yet accepted triple threat auteurs like Woody Allen, George Clooney, and Kevin Smith. He's continually experimenting and yet is always faithful to himself. Near impossible in modern Hollywood.
If Perry's only goal was to dramatically explore the interactions of families, friends, and communities, he might be easy to surmise. But ambition is the key to the man's evolving mystique. He's dabbled in television, redefining how sitcoms are produced by spinning a 10-episode deal for TBS' House of Payne into a 100-episode deal.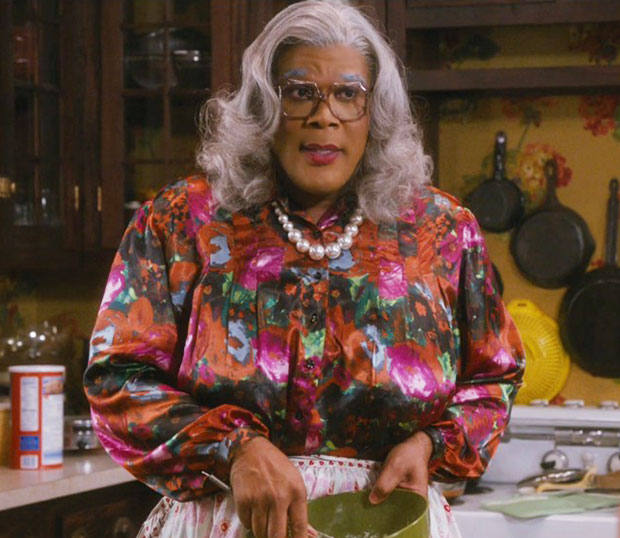 He followed the show up with two similarly produced series, Meet the Browns and For Better or Worse. He's also written a self-help book in guise of Madea: Don't Make a Black Woman Take Off Her Earrings: Madea's Uninhibited Commentaries on Love and Life. It hit the New York Times bestseller list and stayed put for 12 weeks.
What does Tyler Perry want? In 2011, Forbes named him the richest man in Hollywood. Money is not a factor, so when Perry takes a role in a movie that strays from years of dedication to his own creative vision, it's worth taking notice. Following a brief appearance in J.J. Abrams' Star Trek (Perry is apparently a huge sci-fi nut), the writer/actor/director signed on to star in Alex Cross, a reboot of the James Patterson book series first brought to the big screen by Morgan Freeman in Kiss the Girls and Along Came a Spider. The film is not in the "Tyler Perry" vein, made clear by recent trailers showcasing Perry running, jumping, and occasionally gunning his way through a mystery that puts him head-to-head with a psychopathic Matthew Fox. Perry has mentioned being reluctant to take on the role (not even a man with his success wants to follow Freeman), but the offer for a physically demanding role was too enticing.
Perry's brand is all about not knowing what comes next. Alex Cross isn't the first time he has broken out of his recognizable identity and it won't be the last. What keeps Perry's built audience coming back for more is the same thing that keeps onlookers to the phenomenon interested, is diversity. For the first decade it's been a risky evolution inside his own brand. Can Perry turn his signature theatrical style into a movie? Can his twelfth feature film top the last eleven? Can he parlay his cinematic prowess to the small screen? Can he star in a film he's had no hand in crafting? Now he's expanding outwards, and the thinking is still the same. The answer is always unknown.  If anything, that is Perry's "type."
Follow Matt Patches on Twitter @misterpatches
[Photo Credit: Summit Entertainment; Lionsgate]
More:
Tyler Perry Talks 'Good Deeds,' Kim Kardashian, 'Alex Cross,' and … Richard Marx?
'Alex Cross': Matthew Fox Is Jack...ed — PICS
'Alex Cross: Can Tyler Perry Play a Badass Detective? — TRAILER