So you've watched the new Iron Man 3 trailer a dozen times, but like all first glimpses of the latest and greatest summer blockbusters, it all goes by too quickly and without much context. No problem — that's why we're here.
We went through the new spot for Robert Downey, Jr.'s third Iron Man outing with a fine-toothed comb to unearth all of the secrets peppered throughout the adrenaline-infused two minutes video. What do you think is in store for Tony Stark this time? Check out the breakdown and weigh in with your own thoughts: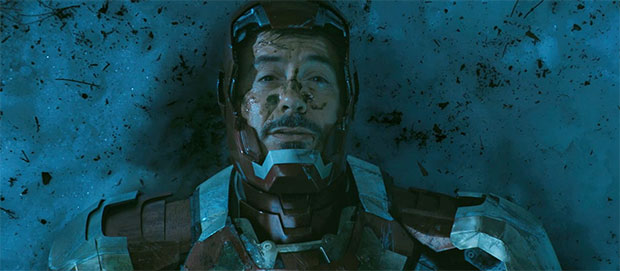 The trailer opens with Tony Stark lying cut up and broken on the snowy ground of who-knows-where, and it's immediately clear that unlike The Avengers, the conflict at the center of Iron Man 3 is the Herculean trial of one man. Finally, after two movies, Stark is going to get his butt kicked (which should make for great action, but also marks a return to the character-centric approach of the first film).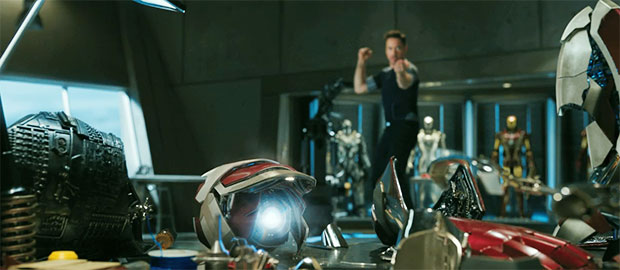 When Iron Man 3 started shooting back in June, rumors swirled that the script tackled a revered Iron Man arc by comic book veteran Warren Ellis called "Extremis." During the six-part series, Iron Man develops technology that allows him to control his armor and equip himself using his mind — making him more of a "superhero" (and less regular joe with a spiffy suit) than ever before. Themes of "Extremis" were hinted at in The Avengers (Captain America insults Tony Stark with the zinger, "Big man in a suit of armour. Take that off, what are you?"), and thanks to the trailer, the rumors seem solidified. Stark can now summon his armor to his body.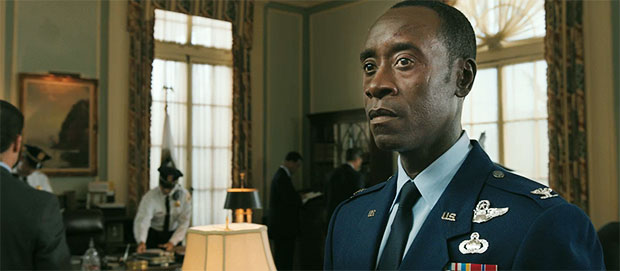 Rhodey! Don Cheadle returns as Tony Stark's bestie James Rhodes, who was mysteriously absent from The Avengers. While his alter ego War Machine didn't fly by Iron Man's side in the film's epic battle (most likely because of cost and script reasons), Marvel announced that there would be a comic book prelude to Iron Man 3 that would explain what Rodey was up to while his buddy was being knocked around by Chitauri warriors.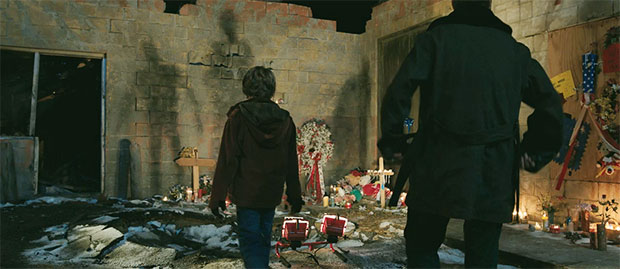 As Tony recalls the war for New York City, the trailer cuts to this somber image of a child walking through rubble to a makeshift tribute site. A haunting reminder of the actual damage caused by Loki's invasion… or is it an outpour of mourning over an event we've yet to see?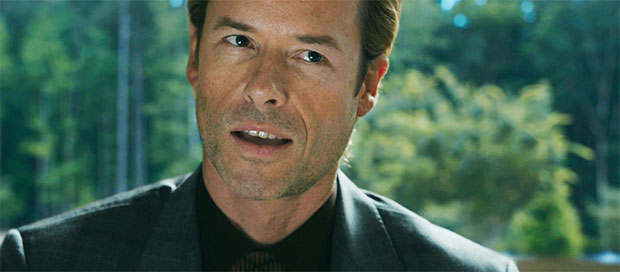 The trailer gives us our first look at Guy Pearce as Dr. Aldrich Killian. In the comics, he's an influential brain behind the Extremis technology. With a diabolical grin on his face, he may also be one of Iron Man's new foes. As we'll see later in the spot, Stark's technology seems to have fallen into the wrong hands. Killian could be the reason why.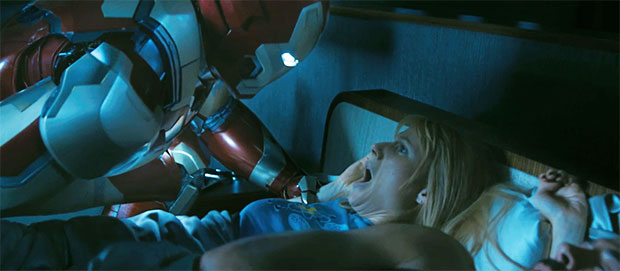 Bad dream or terrifying reality? Downey, Jr.'s voiceover makes it clear Stark can't sleep and is worried about losing the love of his life, Pepper Potts (Gwyneth Paltrow). This money shot could be a nightmare from which Stark quickly wakes up… or could actually be a thug in the Iron Man armor ready to strike.
Oh dear. The voice of Iron Man 3's main villain, The Mandarin (Ben Kingsley), kicks in just after this explosive shot of Stark's laboratory. Much like the chilling poster of Batman's cracked mask from The Dark Knight Rises earlier this year, Iron Man 3 goes right for the gut with the destruction of the hero's iconic suits.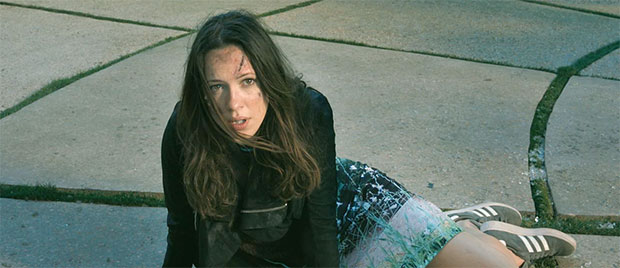 We haven't seen any of Rebecca Hall as Maya Hansen, another scientist from the comic books who has been rumbaed as another potential love interest for Tony, but here she's seen suffering some pretty nasty damage. Occasionally, characters with this type of limited exposure have secrets being held close to the chest. Is that the case with Maya Hansen?
Next:
(Moviefone)