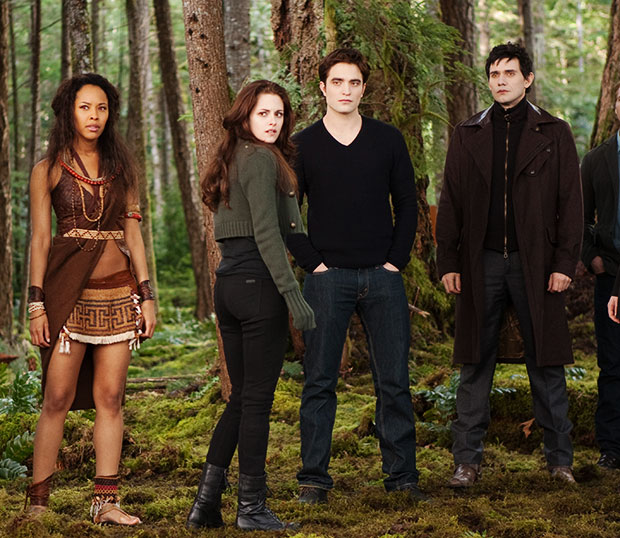 On Nov. 16, 2012, a worldwide phenomenon comes to an end.
With fervor over the Twilight series building with every entry, there's no doubt this month's The Twilight Saga: Breaking Dawn - Part 2 will amount to one of the biggest movies of the year. While the conclusion will surely leave a few dedicated Twihards in tears, the return of Kristen Stewart, Robert Pattinson, and Taylor Lautner for one more round of supernatural drama should once again prove to be a cinematic event for the romantically-inclined. And as evidenced by Breaking Dawn - Part 1, in the hands of director Bill Condon, the film will pack surprises for even the most hardcore fans.
If you're desire to see Breaking Dawn - Part 2 is nearing Bella's-newfound-thirst-for-blood levels, have no fear. Hollywood.com is here to quench it. We're giving away (1) pair of tickets in (7) cities to lucky fans and followers of the Hollywood.com Twitter feed. If you live in Los Angeles, CA, Chicago, IL, Dallas, TX Houston, TX, Phoenix, AZ, Philadelphia, PA, or Washington D.C., you have a chance to win!
To earn your shot at the prize and nab a pair of tickets in your market, follow these steps in order:
1. Follow Hollywood.com on Twitter @Hollywood_com.
2. Tweet us the phrase "I'd love to see an advance screening of #BreakingDawnPart2" and use one of the following hashtags, depending on what market you are in: #HWTwilightLA, #HWTwilightChicago, #HWTwilightDallas, #HWTwilightHouston, #HWTwilightPhoenix, #HWTwilightPhilly, #HWTwilightDC
3. We'll choose a winner in each market at random and notify them on the afternoon of Monday, Nov. 12 for the screening, which will take place on the evening of Wednesday, Nov. 14.
Check out the official rules .
(c)Severability; Headings:If any provision of these Official Rules isfound to be unlawful, void, or for any reason unenforceable, then thatprovision shall be deemed severable from these Official Rules and shall notaffect the validity and enforceability of any remaining provisions.Headings and captions are used in theseOfficial Rules solely for convenience of reference, and shall not be deemed toaffect in any manner the meaning or intent of these Official Rules or anyprovision hereof.
(d)Winner: For a list of winners, send a self-addressed stampedenvelope after __11/13/12____ to: Winners List, "_Twilight Premiere TicketGiveaway" Sweepstakes, Hollywood.com, Inc., 2255 Glades Road, Suite 221A, BocaRaton, Florida 33431. Requests for Winners List must be received by __11/22/12____.WA and VT residents may omit return postage.
(e)Rules Requests: To receive acopy of these complete rules, send a self-addressed, stamped envelope to:Official Rules, "_Twilight Premiere Ticket Giveaway_" Sweepstakes,Hollywood.com, Inc., 2255 Glades Road, Suite 221A, Boca Raton, Florida 33431.Requests for Official Rules must be received by __11/22/12___. WA and VTresidents may omit return postage.