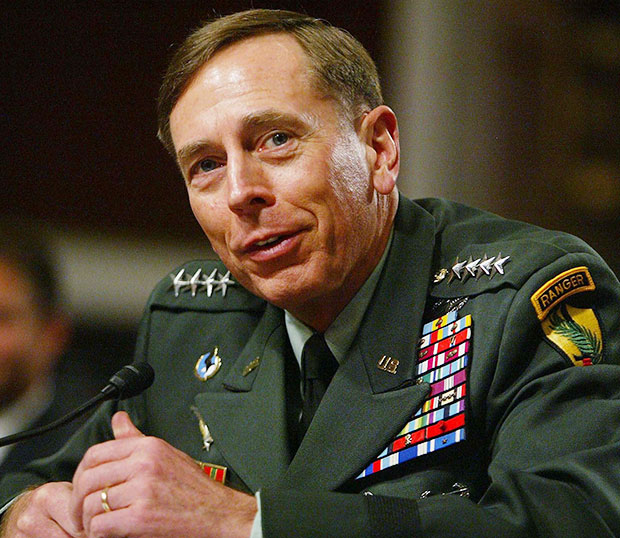 It's got sex scandals, war heroes, government cover-ups... there's just about zero chance that the David Petraeus story won't become a movie. So the only question surrounding the eventual adaptation of this highly publicized controversy — which involves the recently resigned CIA Director's extramarital affair with his biographer, and the FBI's delay in exposing this news — is what kind of movie it will be.
All of the elements are there for a gripping film, but it's the way in which they are delivered that can change the story entirely. Will the focus be on the rise and fall of Petraeus? The experiences of Paula Broadwell, his mistress and the author of his biography All In: The Education of General Petraeus? The Federal Bureau of Investigation's prolonged concealment of the affair? We've seen this sort of thing run through the Hollywood mill in dozens of different ways. It's just a matter of time before one is chosen for this tour de force of a subject matter...
The Education of David Patraeus
The Oscar-bait Biopic
An introspective chronicle of David Petraeus' (Daniel Day Lewis) rise and fall, painting the agent as a devoted patriot conquered by his sexual compulsions, and Paula Broadwell (Hilary Swank) as Pataeus' counterpart in the web of lies leading to his collapse. Directed by Tom Hooper.
The Company of Agents
The Political Thriller
An intense adventure that follows an earnest young newcomer to the FBI (Emile Hirsch) who begins to suspect that his very own agency might be involved in a mass cover-up of the personal and professional affairs of CIA Director David Petraeus (George Clooney). What seems at first to be a mere sex scandal turns out to be something far more serious. Directed by Oliver Stone.
All Out!
The Wacky Sex Comedy
Davey Petraeus (Steve Carell) has always been a hardworking, devoted American and family man. Now that he's got a fancy new job running the CIA, it seems that there's nothing that can get in his way. That is, until he meets the seductive young reporter Paula Broadwell (Malin Åkerman). You can be finishing his biography will throw his entire world is hurled into chaos. Directed by Todd Phillips.
Dave & Paula
The Tearjerker Romance
For years, soldier-turned-CIA Agent David Patreaus (Richard Gere) and journalist Paula Broadwell (Rachel McAdams) have put their careers ahead of finding love. But when the two meet, their hearts fall victim to passion. With the world clawing them apart, David and Paula vow to find a way to be together. Directed by Cameron Crowe.
Coauthor (previously titled What About Vern?)
The Indie Dramedy
In the wake of the David Petraeus scandal, there is one figure who goes overlooked: Vernon Loeb, Paula Broadwell's coauthor of All In. Loeb finds his spotlight in this offbeat examination of the writer's (Jason Schwartzman) descent to madness as he is robbed of his involvement in the biggest news story of the year, while Broadwell (Judy Greer) climbs the ladder of celebrity. Directed by Michel Gondry.
My Affair with a Spy: Biography of Lies – The Paula Broadwell Story of Forbidden Love: The David Petraeus Scandal
The Lifetime Movie
A heartbreaking look at a chaste young writer (Tori Spelling) who is engulfed by a whirlwind affair with the subject of her first book, a sleazy government operative (one of the other Baldwin brothers that isn't Alec) who steals her career and her dignity. Directed by whoever directs Lifetime movies.
[Photo Credit: Carrie Devorah/Wenn]
More:
'Skyfall' Star Naomie Harris Talks Her Character's Big Reveal — SPOILERS
'Skyfall' Star Judi Dench on Her and Daniel Craig's 'British Phlegm'
Scores of 'Lincoln': Finding Abe's Honest Voice — VIDEO
From Our Partners: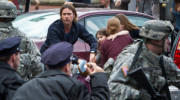 Brad Pitt Fights Zombies, Bad Hair(Moviefone)

Daniel Day-Lewis' Most Insane Movie Makeovers
(Moviefone)