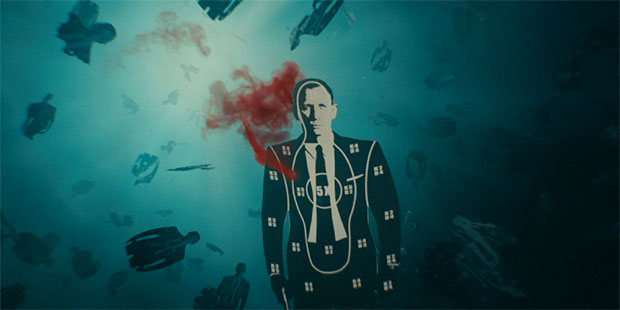 In 1962, film title designer Maurice Binder conceived and shot the first 007 opening sequence, which opened with the now-iconic image of James Bond stepping into the gun barrel and taking a lethal shot. Binder's work is instantly recognizable to both Bond fans and casual moviegoers alike, but Daniel Kleinman, who stepped into the role of franchise title designer after GoldenEye, says the master isn't fully appreciated even to this day. "I think he's underrated," says Kleinman. "People love his work, but what one has to remember is that he invented a kind of visual language that is immediately recognizable as Bond, secret agents, excitement, and sexiness. If you see a silhouette of a girl with flames keyed into it, everyone in the world knows what that image is. He invented it."
Kleinman, who helmed the title sequence for the most recent Bond adventure Skyfall, entered the crosshairs of Bond producers after helming a Binder-inspired music video for Glady Knight's "Licence to Kill." He was an obvious choice to take over the role when Binder passed away before the making of Pierce Brosnan's first outing. From an early age, Kleinman was enamored by Binder's work — he recalls his 14-year-old self being quite taken by the shadowy women on display in the early films ("I wish that had been a bit slower") — and that respect made taking on responsibilities for the franchise all the more difficult.
"It's always a tricky balance when you're dealing with something that's a language and a heritage that everybody loves and knows and is familiar with," says Kleinman. "One can't throw the baby out with the bathwater. You have to have certain elements that I think, to make it feel like a James Bond film, have to be there." Even today, Kleinman's strives to to find the essence of Binder's work and extrapolate upon it. "It's a fine balance between the old and the new. It is a very subtle thing to put your finger on, but it's a source of lavishness and excitement. An almost psychedelic sort of thing, a graphic thing, sexy, tongue-in-cheek — all those things balanced. Guns, girls, all those elements."
While the iconography established by Binder is key, Kleinman also looks to the legend's innovation behind the camera. "He was quite fascinated with modern techniques and technology. I think he used the laser when lasers were first invented. He used it in a title sequence. He used florescent paints. All sorts of mad experiments that made it seem different and fresh."
Kleinman begins work on his title sequences before the film's accompanying theme song has been recorded or even written. Instead of taking cues from the mood of the music, the director first tears through the script for inspiration. "It takes about six to nine months," says Kleinman. "I read [an early draft of the script] and come up with thoughts. I don't want to just create a jumble of images that mean nothing. It has to have a certain relevance." In the case of Skyfall, Kleinman created "loads of sketches" for director Sam Mendes and producers Michael Wilson and Barbara Broccoli, who left it to his discretion on how to hold the attention of the audience.
"One of the toughest things about the sequence is to try and not over complicate it," says Kleinman. "It's a long sequence, four minutes." Along with keeping the focus sharp, Kleinman also battles with a history of Bond title knockoffs. "The language that Maurice invented and that I've tried to riff on and take forward, has been ripped off effectively by millions. You see it in book covers, magazine covers, other movies, TV series — all of these things have taken from that language. And a lot of them don't do it very well, and they look cheesy."
For Skyfall, Kleinman wanted to utilize star Daniel Craig and take him through an impressionistic journey through the film's events, capitalizing on the image of Bond sinking in the opening and carrying it throughout the sequence. The director notes the use of bullet holes in the sequence as an example of his goals: "Instead of making them realistic, I tried to make them look like paper that was torn open. It became more like a graphic thing than a literal thing."
Achieving the fluid effects took a tremendous amount of time and effort, Kleinman bringing his concept to all on his own before handing it off to his team of artists. "I work out the ideas and the sequence of events and transitions — what I want to happen in it. Then I physically edit a storyboard, so it becomes a little cartoon of the sequence," says Kleinman. "The effects are so complicated it takes an enormous amount of people to create the actual visuals. They create liquids, elements of blood and liquid, a lot of it is computer animated."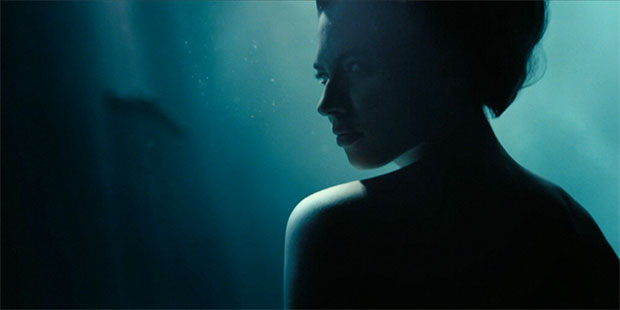 CG is heavily employed in the making of a modern Bond title sequence, but the effects heavy treatment still requires Kleinman to shoot a great deal of footage. "A lot of it is physical, real elements. The guns… I built a tunnel for a recurring element of the sequence." Kleinman points to the underwater photography as the most demanding aspect of the shoot. He recalls directing the women who had to submerge themselves for the sequence. "[I would say,] 'Would you mind taking your clothes off and jump in the pool?' Weirdly, I'm a little bit prudish. I find it slightly embarrassing! But they know what they're up for. It's very professional."
If the underwater material was the most complicated, then the footage with 007 himself was the most intimidating for Kleinman. "I had to film him do the walk for the gun barrel," says Kleinman. "Finding oneself directing Daniel Craig doing the gun barrel for James Bond… that's a heavy responsibility [laughs]. It's an image everyone in the world knows. You think, 'I can't screw this up.'
Kleinman has a passion for crafting the Bond title sequences and he hopes they never go out of fashion. He sees them as, not just a memorial to the work of Maurice Binder, but works of art that we rarely see today. "It's tricky. It's like B-films, the support feature. Something from another era. Perhaps title sequences aren't thought of as art pieces in their right anymore."
Follow Matt Patches on Twitter @misterpatches
[Photo Credit: Sony Pictures]
More:
'Skyfall' Stuntman Reveals How They Devised and Pulled Off the Movie's Big Set Pieces
Roger Deakins on Shooting 'Skyfall' Like a Western, Not an Action Movie
'Skyfall' Star Naomie Harris Talks Her Character's Big Reveal — SPOILERS
From Our Partners:

'Twilight' Cast Now and Then (PICS) (Moviefone)

How to Be a Bond Director
(Moviefone)