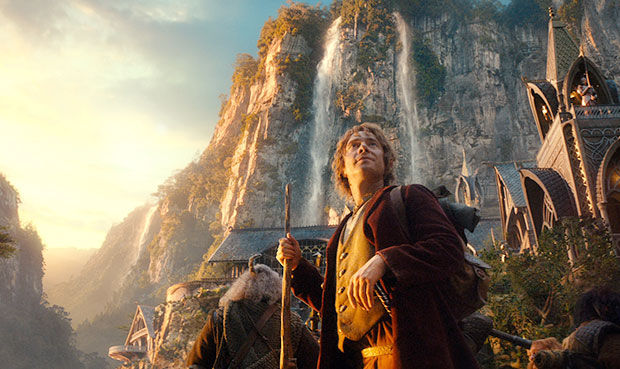 Today, the masters of the big, big screen, IMAX, delivered moviegoers a one-two punch: not only would the upcoming Star Trek Into Darkness tease its opening nine minutes in glorious IMAX 3D this December, but the company also signed a deal that would ensure 20 of Warner Bros. Pictures' films would arrive to IMAX screens in the coming years.
Speaking to Hollywood.com, IMAX President Greg Foster couldn't be happier with with the announcement. "It's more moving the ball forward," says Foster. "Continuing to solidify all of our relationships. We have a unique relationship with Warner Bros. but we have unique relationships with all the studios."
Foster sees Warner Bros. as a studio that perfectly aligns with the IMAX brand and business model. "Warner Bros. has a very specific strategy for the past ten years that plays specifically to our brand," says Foster. "They're in the tentpole business. Whether it's the Harry Potter franchise or the Batman franchise or the Hobbit franchise or the Superman franchise — those are the movies that are right up in our wheelhouse."
WB's announcement named a handful of event titles lined up for IMAX's signature digital remastering process, including Jack the Giant Slayer, Man of Steel, Pacific Rim, 300: Rise of an Empire, Alfonso Cuaron's Gravity, The Seventh Son, and next year's Hobbit sequel, The Desolation of Smaug. Foster notes that nobody has been more supportive of what he calls the "IMAX DNA" than Warner Bros — and that goes from shooting native IMAX too.
"Whether it's the Chris Nolan stuff, or Wally Pfister who is the former Chris Nolan DP who is now making a movie, which we hope to be a part of. We've announced that there's a IMAX high frame rate component in The Hobbit. That's all part of differentiation for an experience you can only get in a theater and in particular an IMAX movie theater. That's something Warner Bros. advocates." According to Foster, 50 IMAX theaters will be capable of supporting The Hobbit's high frame rate.
IMAX and Warner Bros. set up a similar deal in 2010, and like that collaboration, IMAX is still free to bring the films of other studios to the large screen format. "We've got two movies from Lionsgate: Ender's Game and Catching Fire," says Foster. "We have movies with Disney, one that we've announced and others we haven't announced and are pursuing and making work, and I think we probably will. We have Star Trek [Into Darkness]. We've had an incredible run with Sony for Bond right now. We've got Oblivion and Jurassic Park for Universal — it's a big marketplace. "
When it comes to Star Trek Into Darkness, Foster not only sings the praises of J.J. Abrams value as a director who has taken advantage of IMAX cameras (Foster notes that a "notable portion" of the film has been shot in the format), but also of IMAX's past work with 3D conversions. The melding of native IMAX footage and 3D did not present issues because it's in line with the process IMAX has been employing for 30 years. "Whether it's Avatar, which we worked on for two years before it came out with James Cameron, or The Polar Express, which many people will tell you was the "eureka" moment that shifted the focus to 3D. We love 3D, but don't decide on movies based on if their 2D or 3D."
For Foster, IMAX's future comes down to one mantra that should be music to moviegoers ears: "There is room for all of the people who make great movies," says Foster. "We pick a movie based on what's right for our audience."
Follow Matt Patches on Twitter @misterpatches
[Photo Credit: Warner Bros. Pictures]
More:
9 Minutes of Star Trek Into Darkness to Boldly Go in Front of The Hobbit
Star Trek Into Darkness First Look: What In the Hell Is Spock Doing? — PIC
IMAX President Talks Skyfall: 'Bond Just Somehow Stays Cool'