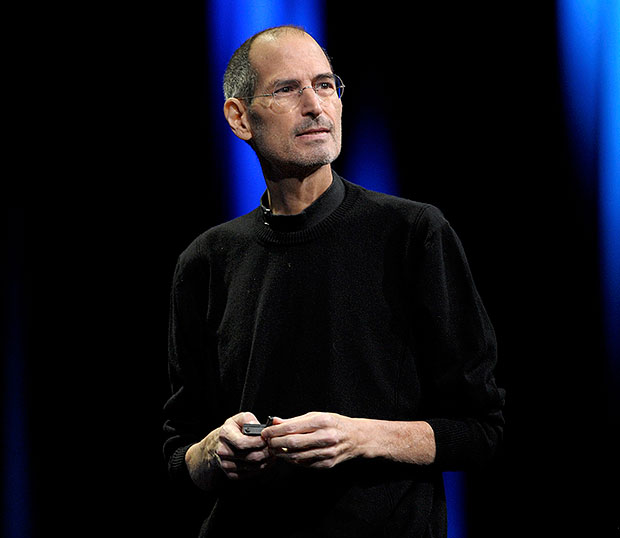 Steve Jobs' passing in October of 2011 left many Americans clamoring to hear more of the gifted innovator's story... and a few clamoring to tell it. In the works presently are two Jobs biopics you've probably heard something about: the indepdendent Ashton Kutcher-starrer Jobs, and Sony's adaptation of writer Walter Isaacson's biography of the Apple founder, which has slated Aaron Sorking to write the script. 
Sorkin, an admirer of Jobs who has been linked to the entrepreneur in hyperbolic accounts of a close friendship, spoke on his biopic script during Friday's Newsweek/Daily Beast Hero Summit in Washington, D.C. The accomplished writer revealed several interesting facts about the story structure of this developing movie:
1. The movie will only consist of three scenes, all in real time
"I hope I don't get killed by the studio for giving too much away, but this entire movie is going to be three scenes. And three scenes only. That all take place in real time ... a half-hour for you in the audience is the same as a half-hour for the character on the screen. There'll be no time cuts." (So it's kind of like My Dinner with Andre, but with iPhones)
2. All scenes will take place backstage at product launches
"Each of these three scenes is going to take place ... backstage before a product launch. The first one being the Mac, the second one being Next — after he had left Apple — and the third one being the iPod."
3. He wants to end the movie with Jobs' Think Different campaign: "Here's to the crazy ones."
"Basically, my goal is … if I can end the movie with that text, with that voiceover [from the campaign] ... If I can earn that ending, then I'll have written the movie that I want to write."
See more of what Sorkin has to say about Jobs and his developing feature in the video below, courtesy of Deadline:
[Photo Credit: David Paul Morris/Getty Images]
More:
Apple Is the World: Ashton Kutcher as Steve Jobs, the Founder's Drug History & More
Apple Becomes the Most Valuable Company in the World
How Apple's New iPad, iCloud, Apple TV Will Change the Way You Watch
From Our Partners:

'Twilight' Saga's Most Underrated Characters (PICS) (Moviefone)

Best (and Worst!) Movie Plot Twists Ever
(Moviefone)