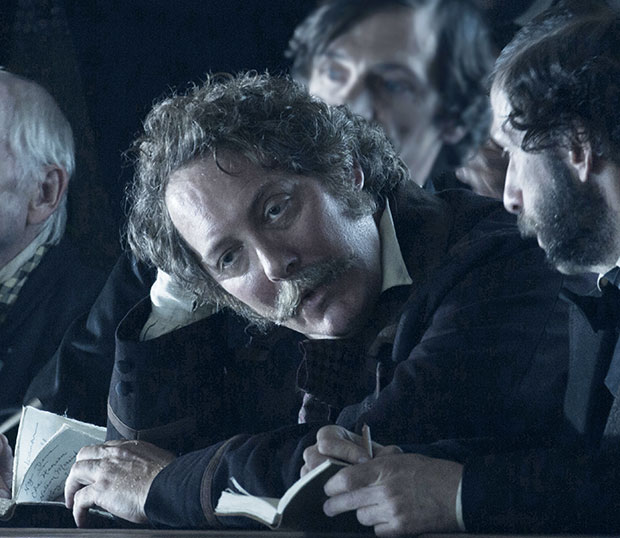 Most of the talk surrounding Lincoln, the latest film from blockbuster master Steven Spielberg, has focused intently on star Daniel Day-Lewis' chameleon performance. It's an impressive disappearing act — Day-Lewis transforming into the splitting image of the 16th President, while whittling the legend to turn Honest Abe into an everyman. But Day-Lewis' performance, inspiring as it may be, is not the movie's best. That title unexpectedly goes to James Spader, who turns the historical drama on its head as Lincoln political operative W.N. Bilbo. If America's Legislative Branch looks like a circus in the 21st century, Spader helps us realize it wasn't all that different back in the 1860s.
"I don't think people think of politics at that time as being similar to today," Spader says. "But lobbying was, as a practice, taking place since the beginning of the first Congress. It was really taking place in the 18th century, pre-dating our film by a lot. But it wasn't institutionalized at that time."
Spader's Bilbo spends a majority of Lincoln traveling across the country, doing anything in his power to convince members of Congress to vote for the 13th Amendment ("People were shooting from the hip to a certain degree"). The madcap side quest provided ample opportunity for Spader to play up the humor of the situation. "In conversations with [screenwriter] Tony Kushner and Steven Spielberg and even Daniel Day-Lewis, it was clear that [comedy] was a very important part of the job. And that was something that I wanted to embrace as well. It's something I wanted to embrace as well. I thought it would be the role that would be the most fun to play in the entire film." Spader likens Bilbo to the comedy parts of his past, and even the villains he has played that allow him to open up and go wild. "I love to play characters who kick the movie in the ass."
While the comedic interpretation of the character was easy to embrace, it initially worried the actor. "A lot of my scenes were shot in a vacuum — maybe with one other person," Spader says. "The business Bilbo was conducting was isolated, in taverns, backrooms, out in a field somewhere — someplace away from where it would be too exposed." After two scenes worth of shooting, Spader eventually had to ask if the approach he was taking would work. "I pulled Steven aside after a couple scenes and said, 'I just want to make sure I'm making the same movie as everyone else!' [Laughs] If it would fit with the landscape of the rest of the film. And he told me to continue on my path." Lincoln is inherently dialogue-heavy, so when it came to step outside the Capitol or White House, Spader was there to give the film a boost. "I realized there was a kinetic energy called upon from him. That call was important in terms of the propulsion of this plot."
Spader's worries about playing up the physical comedy were calmed even more when he started working with Day-Lewis. Spader says he was surprised by how important humor was to both Kushner and the actor when crafting the film's Lincoln. "The scenes that he and I spent together on the set, the side of Lincoln that I would see when we'd work together, he was playing Lincoln as someone who appreciated the irreverence that Bilbo brought to the table."
Key to Spader's flamboyant portrayal of the real life political operative was a physical element he relied on heavily: the mustache. "I was disappointed, because a fake mustache, no matter how long you leave it on, never feels like anything else but a dead mouse on your lip," Spader says. Preparing for the role during his one-season stint on The Office, Spader was unable to grow the handlebar he planned to sport for Lincoln, but in the end it worked out for the best. "I also wanted a different mustache than what mine would naturally have been. I wanted a mustache that reflected his character. He was larger than life, in the context of this film."
Modern day government never factored into shaping the performance of Bilbo, who Spader describes as "a Shakespearean fool," but thanks to the recent U.S. election, it was hard to keep completely unaware. "It was ironic that we were shooting in Richmond, Virginia, right during the Republican Primaries during this election," Spader says. "So that was not only extremely entertaining, but it kept my head in touch with politics even in my off hours." Spader even had an "Ah ha!" moment of his own during filming. "60 Minutes ran a segment in the middle of shooting. [They] did a profile on [lobbyist and convicted criminal] Jack Abramoff. So that was entertaining to see what that practice turned in to as an institutionalized profession."
Follow Matt Patches on Twitter @misterpatches
[Photo Credit: Walt Disney Pictures]
More:
A Gettysburg Affair on The 'Lincoln' Red Carpet with Steven Spielberg, Tommy Lee Jones — VIDEO
Scores of 'Lincoln': Finding Abe's Honest Voice — VIDEO
Daniel Day-Lewis Is Great, But Spielberg's 'Lincoln' Surprises with Amazing Ensemble
From Our Partners:

'Twilight' Marathon: Watching All 5 Movies With a Group of Twi-Hards (Moviefone)

Most Ridiculous Movie Plot Twists Ever
(Moviefone)