Even after the admittedly vague revelations that came with the official Star Trek Into Darkness synopsis, fans of the sci-fi adventure series remained in a nebulous fog over whom Captain Kirk (Chris Pine), Spock (Zachary Quinto), and the rest of the Enterprise crew would be facing off against in the sequel. Descriptions of the mystery villain, played by series newcomer Benedict Cumberbatch (Tinker, Tailor, Soldier, Spy and the BBC's Sherlock) were ambiguous, the summary referring to him as "an unstoppable force of terror from within their own organization [that] has detonated the fleet and everything it stands for, leaving our world in a state of crisis."
While we may not have a name for the character, we now have a visual to put to the "unstoppable force of terror" part of the equation, with the film's first poster spotlighting the epic destruction of the Star Trek's new baddie. Cumberbatch takes center stage in the Dark Knight-esque one-sheet, the smoldering remains of a Starfleet building outlining the iconic symbol of the Federation. Decked out in a leather sheath that would make even Neo shudder with fear, Cumberbatch stands in the modern villain position of choice: back out, covered face, not giving a damn about blowing his adversaries into smithereens. Terrifying.
Check out the poster below. Star Trek Into Darkness beams in theaters on May 17, 2013.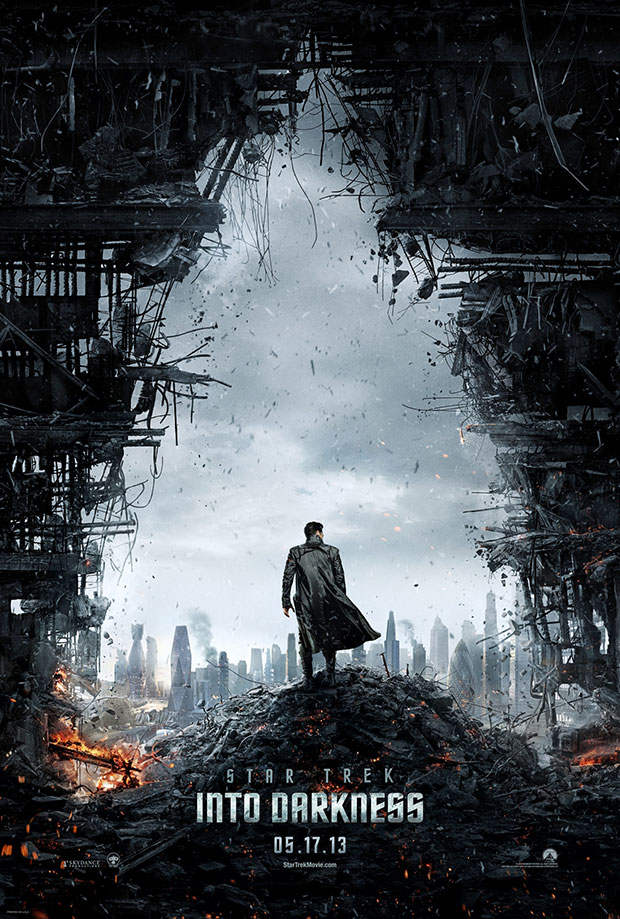 Follow Matt Patches on Twitter @misterpatches
[Photo Credit: Paramount Pictures]
More:
Trek Fans, Fill in the Blanks: 'Star Trek Into Darkness' Synopsis Revealed
IMAX President Talks 'Star Trek Into Darkness,' the 20-Picture WB Deal, and Beyond
'Star Trek 2' First Look: Benedict Cumberbatch as Shocking Villain
You Might Also Like:

'Friday Night Lights' Movie Not Likely, Says Zach Gilford — EXCLUSIVE

'Les Mis,' 'Dark Knight,' and More: The Best Trailers of 2012