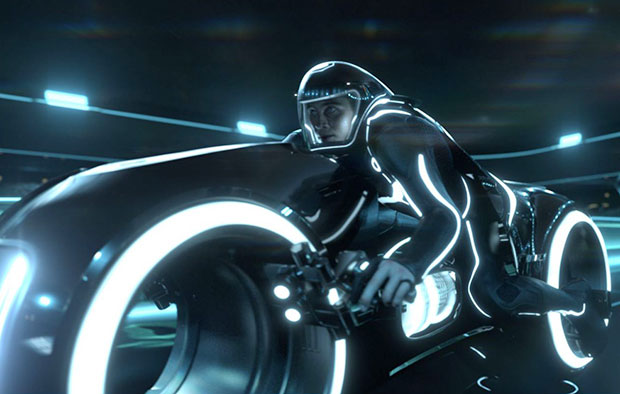 Tron: Legacy may not have been a hit of Pirates of the Caribbean-sized proportions for Disney, but they're persisting with the homegrown franchise. Tron 3 is still in development, and has just hired a new writer to continue cracking the code. The Hollywood Reporter reports that Disney has hired writer Jesse Wigutow to take over scripting duties, and that Legacy director Joseph Kosinski is attached to helm the film. Wigutow doesn't have many produced credits to his name, but has been tasked with penning Disney's Peter Pan fantasy Peter and the Starcatchers, and with adapting Robert Lundlam's The Osterman Weekend. Hollywood.com has reached out to Disney, who could not immediately be reached for comment.
Making a sequel to a cult property from the '80s wasn't a logical idea (especially when the plan involves spending upwards of $170 million on it), but in the case of Tron: Legacy, the impetus was clear. 1982's Tron catered to a niche audience who loved both adventure movies and computers. These days, that description fits everyone — so why not revive it?
The 2010 followup reflected the evolution of computer technology in the past 20 years, and in some ways, with its thin characters and style-over-substance approach, the entertainment sought through today's Internet. Without much of a hook, other than the original's "we're going inside a computer!" and some awe-inspiring, glossy visuals, Legacy came to and quickly disappeared from theaters. So, on paper, developing a third Tron film sounds like another illogical move. 
But the rich world of Tron can't be denied. In a tech-obsessed culture, Tron's conceit of anthropomorphizing the programs of our everyday lives, and throwing them into high-octane action is all too perfect. Tron Legacy may have been bloated, but it established a wealth of ideas and designs that are ripe for spinning off into new adventures. With a foundation built out of Marvel comic book movies and their newly acquired Star Wars franchise, Disney is in a position to build internally, and the world of Tron is already established. The gigahertz is the limit for Wigutow. Let's hope development on Tron 3 doesn't take 20 more years.
Follow Matt Patches on Twitter @misterpatches
[Photo Credit: Walt Disney Pictures]
More:
Disney Buys Lucasfilm for $4B, New 'Star Wars' Movie Announced for 2015
Angelina Jolie Looks Absolutely Wicked in 'Maleficent' — PIC
Comic-Con 2012: Disney Surprises With 'Lone Ranger' Footage

25 Things You Didn't Know About 'Aladdin' (Moviefone)

Best Hit Men Movies Ever (Moviefone)