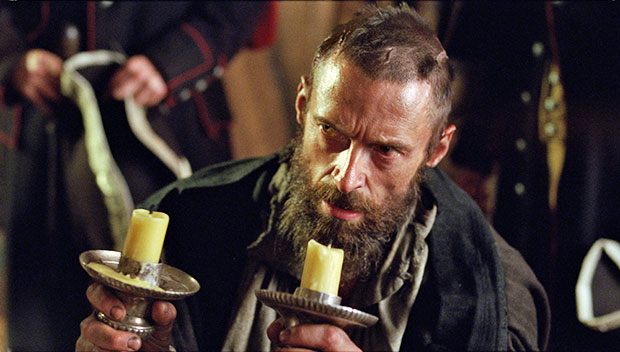 Hugh Jackman is as tough as they come. Through his work as X-Men favorite Wolverine, he's transformed himself time and time again into a ripped action machine. But behind the rough, gruff superhero is an energetic performer capable of delivering the same energy used for a blockbuster set piece to a flashy show tune. Jackman's career on stage has been as fruitful as his one on screen, so it was only a matter of time before the actor brought his musical skills to the movies.
"I have been waiting a long time to do one," Jackman tells Hollywood.com. Ten years after its release, it's well known that Jackman turned down a role in the Oscar-winning musical Chicago, a move he still regards as "stupid." And so, he didn't even think when word of a Les Misérables movie popped up. "I was aggressive… I was annoying. I rang Tom Hooper and said, 'I want to have a meeting.'" But Jackman didn't even wait for that, first approaching Hooper at the Oscar party after his big win for The King's Speech. Hooper told him he hadn't even signed on, that the movie was all rumors. Jackman didn't let the idea of him starring in the film rest, jokingly saying that when it came to his confrontation with Hooper, he "hit him a couple of times."
Jackman of course got his wish of starring as Jean Valjean, the convict who can't catch a break in the turbulent landscape of early 19th century France. When it came to shooting the picture, it was a case of be careful what you wish for. Hooper made the landmark decision to have his cast perform the songs live on set, a demanding task that required as much, if not more, physicality than the actor's action movies.
"I'm 44, I just finished another Wolverine movie, and I can tell you the action's getting a little tougher too," Jackman says. "The very first thing I sung was up on a mountain in the Alps. I had wooden clogs on and it was below freezing. We were climbing a mountain and I had very little clothes on and I literally had purple hands shaking. You could hear the cold in my voice." Jackman begged Hooper not to use the actual clogs from the 1800s, to cut him some slack while he belted his big opening number. No dice. "Tom is a stickler for historical detail… I don't think [the clogs] are going to take on."
To see Jackman discuss the harsh conditions of filming Les Misérables, his work in the emotional finale of the film, and how he plans to continue his Les Mis work on stage, check out our exclusive video interview below:
Follow Matt Patches on Twitter @misterpatches
[Photo Credit: Universal Pictures]
More:
Hugh Jackman's Abs Are Sharper Than His Claws in 'The Wolverine' — PIC
'Les Misérables' Poster Recreates Broadway Original with Vivid Reality
'Les Miserables': A Fan Breaks Down the Trailer
The 'Les Mis' Red Carpet: In Which Anne Hathaway Grows Wings

25 Things You Didn't Know About 'Aladdin' (Moviefone) 

22 Must-See Holiday Movies (Moviefone)