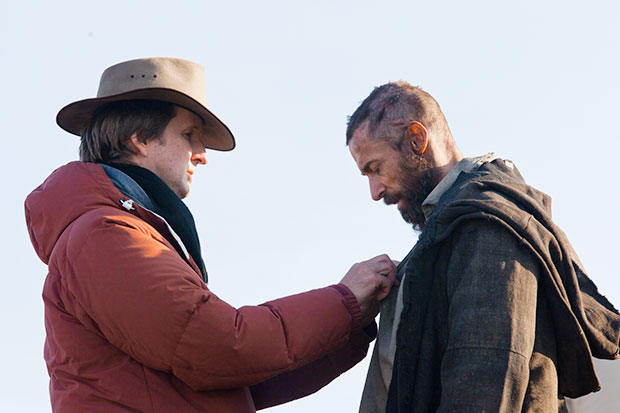 You can tell that it took some convincing for director Tom Hooper to take on a musical, let alone the gargantuan responsibility of Broadway smash Les Misérables.
When Hollywood.com sat down with Hugh Jackman to discuss the film, the actor revealed that he was so anxious to be a part of the film that he cornered Hooper at an Oscar party (only a few hours after the director picked up the Academy Award for The King's Speech). At that point, Hooper wasn't ready to hire anyone to play Jean Valjean — in fact, he hadn't even officially signed on to direct the movie.
Hooper gave Jackman a chance, and to the director's surprise, the actor revealed through song the glue that would hold Les Misérables together. Hooper describes Jackman's audition at a Q&A conducted for EPIX and LA Times' Envelope Screening Series: "When he sang, I didn't yearn for him to stop singing and speak. He was so confident and comfortable expressing himself through song, that not for one moment do you wish he would talk instead. And I realized that the key to this [film] was hiring actors who have such a facility and confidence in expressing themselves through song."
To hear more from Hooper, and to hear Jackman and costar Eddie Redmayne (who plays Marius in the film) discuss their epic audition process, check out this exclusive clip from the Q&A below:
Click here for a FREE 14-day trial of EPIX
Follow Matt Patches on Twitter @misterpatches
[Photo Credit: Universal Pictures]
More:
Matt Damon On Almost Ruining John Krasinski's Plans for 'Promised Land' — EXCLUSIVE
'This Is 40' Star Paul Rudd on Maude Apatow: '[I'll] Never Be That Good' — EXCLUSIVE
'Bernie' Star Jack Black on Meeting His Real Life, Murderous Counterpart — EXCLUSIVE VIDEO

'The Hobbit' Cast: A Who's Who New Character Guide (Moviefone)