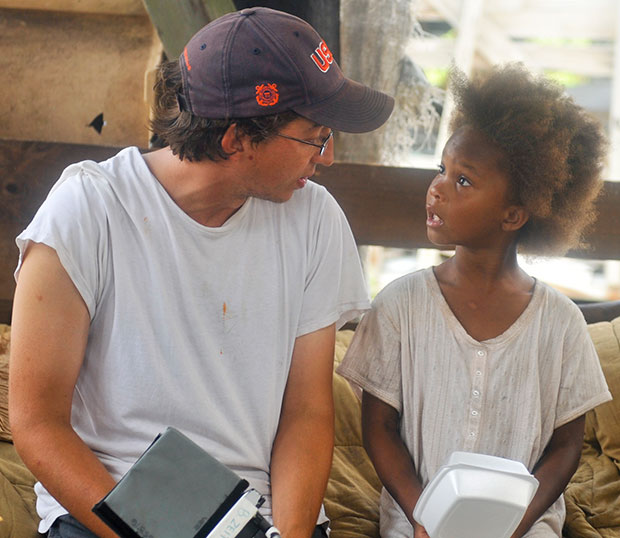 Benh Zeitlin is living the dream. At 30 years old, his directorial debut Beasts of the Southern Wild took the 2012 Sundance Film Festival by storm, was immediately picked up by Fox Searchlight, arrived in theaters over the summer, was met with high praise from critics, and is now a contender for Best Picture at the 2013 Academy Awards. Zeitlin is also in the running for an award: Best Director, where he's seated side-by-side with a legend, Steven Spielberg.
"I feel like it's some sort of samurai movie where the trainee gets to sit with the masters," says Zeitlin. "It's really humbling."
The director is modest when it comes to being in the ring with the likes of Spielberg (nominated for his work in Lincoln), explaining that the king of blockbusters played an influential part in helping Zeitlin meld real world issues, emotional character beats, and the heightened world of "The Bathtub" in his Louisiana bayou-set fable. Zeitlin describes the language of Beasts as "poetic" and "artistic" but says that he took a cue from Spileberg by considering "the engine driving the thing as much more formal, much more classical storytelling." He praises Speilberg's grasp on form and objectivity, and studied films like E.T., Jaws, Jurassic Park, and Indiana Jones and the Last Crusade in preparation for his own feature directing experience. Wait, The Last Crusade?
"I'm a huge Holy Grail person," says Zeitlin. "Those are the films I watched my entire childhood. I couldn't be more proud to share that space with him." Specific moments of Last Crusade even informed Zeitlin's decisions on Beasts. "I can't remember exactly what's going on in it, but there are certain scenes where he will put the camera on one thing and will explain an entire concept. I think it's something with a ceiling fan." He explains that a time-crunched moment on his movie was saved after recalling Spielberg's particular style for shooting Indiana Jones.
"There is a shot in Beasts where we were running out of time and it had a whole complicated series of shots and blocking, and we thought, 'How would Spielberg shoot this?'" says Zeitlin. "Explain what was going on with one shot. I always think of that shot in the movie. We solved the huge scheduling problem by thinking about Master Spielberg and what he would do."
Zeitlin, like Spielberg, also has an eye for casting talented kid actors. While there's often debate on how much of a child performance can be truly called "acting" (rather than hidden coaching from a director), Zeitlin has no doubts 9-year-old Quvenzhané Wallis, also nominated for an Oscar, is the real deal. He explains that even when he watches Beasts, he sees a subtly rarely found in adult performances. Wallis's quiet moments speak volumes to her talent. "Sometimes you see kid performances where they're only 'acting' when they're talking … Her quietness in the film is so dynamic. You sense so much feeling and nuance. You can tell that when when I watch the film that it's not constructed in the editing."
Along with Spielberg, Zeitlin cites a diverse collection of filmmakers as his inspiration, from John Cassavettes to Czech filmmaker Jan Švankmajer. He sees his smorgasbord of interests coming together with one underlying theme: ambition. "I'm always thinking in terms of things that are physically impossible to do. Having to realize them in the actual world is always a problem [laughs]." Many Oscar-nominated directors take their newfound clout and run to Hollywood, looking to break in to big budget filmmaking. Zeitlin could do that if he wants — he certainly has an eye and drive for grandeur — but don't expect him to take on the next big superhero franchise. At least, not yet. "I've always been committed to generating my own material," he says. "I want to continue working in Louisiana with the same crew, my friends. None of that changes, but it's a real thrill to know that we're not going to have to beg and plead to make a movie on the next one. Just having that leverage and power to really use creative freedom and be ambitious with what we're trying to attempt, it's really exciting."
For Zeitlin, the real treat of sharing the spotlight with a great like Spielberg is the exposure it will bring to an indie in search of a broad audience. "It started in a world of film aficionados and critics who go to festivals and spreading to art house audiences," says Zeitlin. "This moment feels like… every person who loves movies in the world looks to the Academy Awards for guidance on what to see. People who would never have gotten a chance to see this film are going to have that opportunity. It's such an incredible feeling."
Follow Matt Patches on Twitter @misterpatches
[Photo Credit: Fox Searchlight]
More:
'Beasts of the Southern Wild' Star Quevenzhane Wallis: Hollywood.com Breakout Actor 2012
Is Quvenzhane Wallis Oscar's Youngest Nominee, and 9 Other Questions About 2013's Race
Sundance 2012: 'Beasts of the Southern Wild' Is a Sensory Explosion of Americana and Mysticism

Megan Fox's 12 Hottest Moments (Moviefone)

Ryan Gosling's 'Airbrushed' Abs: Plus 19 More Reasons We Love the Actor (Moviefone)