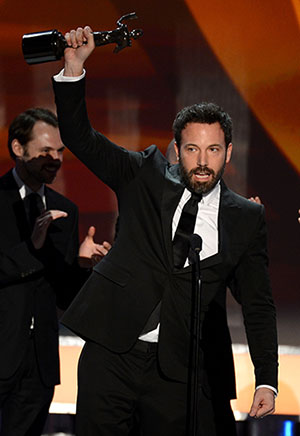 Ladies and gentleman, we have a new Best Picture frontrunner at the Oscars on our hands, Best Director snub be damned. After wins at the Golden Globes, the Producers Guild Awards, and the Critics Choice Awards, Argo, Ben Affleck's intense drama about the 1979 hostage crisis in Iran, has now taken another major award when it walked away with Outstanding Performance By A Cast In A Motion Picture at the Screen Actors Guild Awards on Sunday night. 
Besting the likes of the casts of
Lincoln
(which has been the predicted Best Picture frontrunner, until this point),
Silver Linings Playbook
(which still won an award for
Jennifer Lawrence
in the Best Actress category), and
Les Miserables
(which still won an award for
Anne Hathaway
in the Best Supporting Actress category) Affleck and his talented cast mates, including Best Supporting Actor nominee
Alan Arkin
, as well as
John Goodman
, SAG winner
Bryan Cranston
,
Clea DuVall
,
Victor Garber
, and
Chris Messina
.
"I can't believe I'm standing in the place
Daniel Day-Lewis
was" said a "really amazed and stunned" Affleck (who not only directed, but starred in the film) moments after the Lincoln star won for Best Actor. The grateful actor/director thanked his wife
Jennifer Garner
(who smiled from the crowd) and their children, as well as
Argo
's studio Warner Bros. "Not quite as much," Affleck said of the studio, adding, "but I do love them." 
But Affleck, who acknowledged not all actors in SAG get to where he is, also made sure to give props to his massive cast (more than 150 actors took part in the film) and the acting industry as a whole. He closed his spirited speech with saying, "Thank you so much for making the movies you make, and the television you make, and the theater you make...we are in your debt." 
[Photo credit: Mark Davis/Getty Images] 
More: 

20 Hottest Celebrity Bikini Bodies