"Have a great summer!"
You'll recognize that as the tired phrase that is scrawled on every other page of your high school yearbook. Glossing over the fact that your longtime classmates didn't even have the foresight to wish you well through the duration of your life past the August following graduation, the creativity levels in such a farewell are remarkably low. But that deficit in imagination, that palpable void of anything interesting to say, that's why we're "normals." You know, the subspecies of human three ranks* below "celebrities."
RELATED: Oscar Race: Does Harvey Weinstein Rule The Oscars? — INFOGRAPHIC
Here we have the closest thing to a Celebrity Class of 2012 student body picture: a group snapshot from this year's Oscar nominees luncheon. In the spirit of high school's most halfhearted tradition, we've dreamed up some of the yearbook messages these stars might share with one another upon their "graduation" (a.k.a., the Academy Awards), right before they'd head off on month-long road trips or take sub-minimum wage jobs at the local pool. Click on the picture to see an enlarged version, and check out some superstar takes on the ol' "Have a great summer!" routine.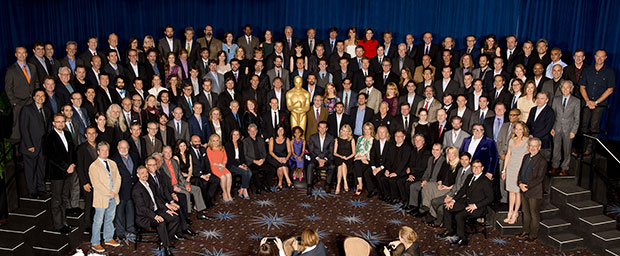 Jennifer Lawrence to Bradley Cooper:
Had the best time in dance class. Put in a good word for me to play Sheryl Crow?
Jessica Chastain to Kathryn Bigelow:
You're the motherf***er I'll miss the most.
Anne Hathaway:
Lots of love to the drama club '12!
Tom Hooper to Hugh Jackman:
So THIS is what you look like in a wide-shot!
Naomi Watts, Quvenzhane Wallis, and Ang Lee:
Swim team '12! Us 3, floods 0!
Ben Affleck to Steven Spielberg:
Here comes the varsity round.
Tommy Lee Jones:
:-(
Catch the entire class graduate at the 85th Annual Academy Awards (following the Red Carpet Senior Prom) on Feb. 24.
*From top to bottom: celebrities, scientists, people on cooking shows, normals, politicians.
[Photo Credit: Greg Harbaugh/©A.M.P.A.S.]
---
You Might Also Like:

Biden? Ford? Surprisingly Hot Young Pics of Politicians

Who Wore This Crazy Hat?

Stars Who Changed Their Look After Love