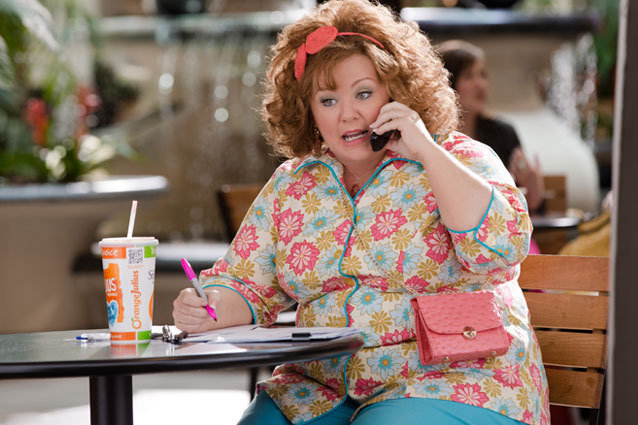 Melissa McCarthy is aware that she is not like other Hollywood leading ladies who can wear sample sizes and dress in the single digits. In fact, in an interview with Good Housekeeping, the Bridesmaids star even admitted that "sometimes I wish I were just magically a size 6 and I never had to give it a single thought."
So when film critic Rex Reed took the funny lady to task over her appearance in the new film Identity Theft, fans didn't take too kindly to his not-so-kind words.
RELATED: Melissa McCarthy, Jason Bateman Are Actin' a Fool in 'Identity Theft' — TRAILER
The New York Observer critic called McCarthy "a gimmick comedian who has devoted her short career to being obese and obnoxious with equal success." And as if that wasn't bad enough, he went on to call her a "hippo," a "humongous creep" and "tractor-sized."
Check out what fans (including Gilmore Girl actor Nick Holmes and McCarthy's Bridesmaids director Paul Feig) were saying on Twitter about the mean-spirited review. Sticks and stones, Rex Reed. Sticks and stones.
"For his catty and school bully name-calling of the supremely talented Melissa McCarthy, I cordially invite Mr. Rex Reed to go f**k himself."
— Paul Feig (@paulfeig) February 8, 2013
"Difference between @rexreed1 and #MelissaMcCarthy is she can lose weight but he'll never be able to acquire some class."
— Brian Milinsky (@cyclist1959) February 9, 2013
"i like #melissamccarthy but dont get the @rexreed1 rage. Her success is in no small part to her no small parts."
— anghus houvouras (@theanghus) February 9, 2013
"New York Observer film critic, Rex Reed, never graduated from the playground to put on his big boy pants of maturity. #melissamccarthy"
— Jill Henderlight (@Henderlightful) February 9, 2013
"#MelissaMcCarthy is undoubtably one of the most kind people in the business - and highly talented.Dick move Reed."
— Nick Holmes (@narcissusholmes) February 9, 2013
[Photo Credit: Universal Pictures]