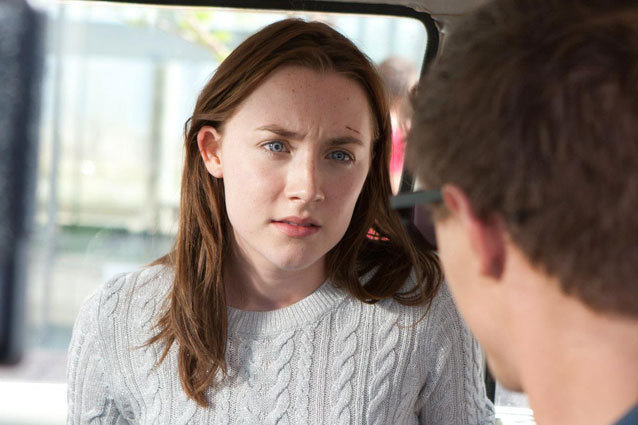 The big screen adaptation of The Host has yet to hit theaters, but author Stephenie Meyer is already creating the sequel. "I've worked on a sequel for The Host but I have no idea when it will be done. And you know when I say it's done there is still the editing process which can be extremely long," Meyer tells Hollywood.com, on a conference call with reporters. "It's going really slowly right now… I would love to get that knocked out this summer but that is extremely unlikely. I would have to cryogenically freeze my children and my husband. So if someone knows how to do that, call me!"
Right now, though, her focus is on the upcoming premiere of The Host, the adaptation of her novel that theaters March 29. While Meyer knows that it's unrealistic to hope everything makes it from the pages to the big screen, she is happy with how true the movie stayed to the book. "There's a major change in that we just had to cut out 500 pages of the novel. It's definitely streamlined down to the essential relationships and the core story," Meyer says. "Aside from that I feel like it gives a very true vision of the world."
RELATED: New 'The Host' Trailer Proves Aliens Are the New Vampires
If anything, Meyer thinks director Andrew Niccol improved upon what she wrote. "Visually, I actually think it's a little heightened. Because in my version of the story, there wasn't that much of a change on the planet Earth. It still looked a lot the same," Meyer says. "But Andrew is such an incredibly visual person and a genius, and so he came into it and made The Host world as just a little bit different than how we do it. The people dress nicer, they're cleaner, everyone's a little bit shinier and there's this slightly different feel."
As for the actor behind The Host's two main characters, alien Wanda and her human host body Melanie Stryder, Meyer is confident that no one else would have worked besides Saoirse Ronan. "She's not a household name, probably because no one can read her name right now. But they will, because she is unbelievable," Meyer says. "She gets to be two people and really run with that. Particularly for her portrayal of Wanda — I think Melanie was a little bit easier for her because she can relate to that girl — Wanda is not even human. And wow, does she just create this person, this entity that really did, for me, most encapsulate this character. She just has that otherworldly persona where she is this alien."
RELATED: 'The Host': 3 New Posters Focus on Free Will
Ronan's ability to portray both a peaceful alien and a rebellious human girl was what drew Meyer to her in the first place. "We knew that with this role, it was very complicated, and without someone who could just transform themselves into both of these characters and be super believable it wasn't going to work," Meyer says. "Saoirse is so ethereal. She's such a down-to-earth kid when you know her but when you see a photograph of her on the red carpet it's like she's from another planet already. She's just this beam of light. And that worked out so well, that otherworldly part of her to play an alien, a very peaceful alien from an advanced civlization that it makes her believeable. She's just different; she's not quite like us. And then she also has the ability to play such a fierce survivor. If you've seen her in Hanna you know what I'm talking about."
While some of Meyer's fans will be going to see The Host because they are loyal Twilight fans, Meyer herself is actually more into aliens than vampires. "Aliens are much more my roots than vampires," Meyer says. "I grew up reading science fiction and fantasy. I never read horror, and before Twilight I had never read a book with a vampire in it. And so that was very not my realm whereas aliens I feel totally comfortable with."
The Host hits theaters March 29.
Follow Sydney on Twitter: @SydneyBucksbaum
[Photo Credit: Open Road Films]
---
From Our Partners:

'SI's 25 Sexiest Swimsuit Covers of All Time (Vh1)

Pregnant Kate Middleton Bikini Pics Spark Palace Anger (Celebuzz)