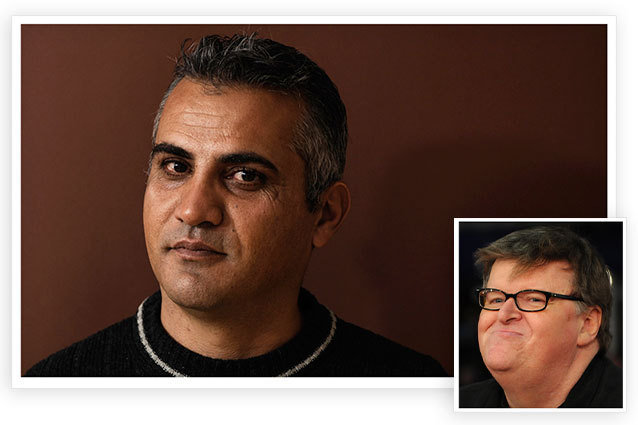 Michael Moore is always ready to pounce. Whether he's spending a few years tracking down subjects for a muckraking documentary or taking to the Internet to point fingers, Moore never fails to yank attention his way when he sees fit. Sure, it's crass and his tone is loud and unrestrained, but more often than not, his points are universal — regardless of what political side his audience falls on.
Moore's latest eruption took place Tuesday night, when the filmmaker took to Twitter to point fingers at the Los Angeles International Airport, U.S. Customs officials, and America as a whole after Palestinian documentarian Emad Burnat was held at the airport after arriving for the 85th Academy Awards. Burnat, whose film 5 Broken Cameras received a nomination for "Best Documentary Feature," was detained by officers at LAX, along with his wife and son, for an hour and a half before Academy lawyers (prompted by Moore) intervened.
RELATED: Oscars 2013: How to Watch All The Nominated Films
According to a statement released by Burnat, airport security questioned him about the purpose of his visit to the States. They didn't believe he was actually attending the Oscars. "Immigration officials asked for proof that I was nominated for an Academy Award for the documentary 5 Broken Cameras," said Burnat. "And they told me that if I couldn't prove the reason for my visit, my wife Soraya, my son Gibreel, and I would be sent back to Turkey on the same day." Adding to insult: Burnat is the first Palestinian to be nominated for an Academy Award — a fact that made the LAX officials' confusion sting even harder in Moore's eyes.
Moore explains in a blog that he communicated with Burnat via text throughout the debacle, instructing the documentarian to hand his contact information over to Homeland Security so that he could explain the situation and avert the crisis. In his statement, Burnat makes it clear that deportation was a very real possibility, but that the experience left him unfazed:
RELATED: Sex, Drugs, and Rock 'n' Roll: The Sundance 2013 Documentaries You Absolutely Must See
"Although this was an unpleasant experience, this is a daily occurrence for Palestinians, every single day, throughout he West Bank. There are more than 500 Israeli checkpoints, roadblocks, and other barriers to movement across our land, and not a single one of us has been spared the experience that my family and I experienced yesterday. Ours was a very minor example of what my people face every day."
To conclude his rant on Twitter, Moore made the simple, pointed quip: "Welcome to America."
Follow Matt Patches on Twitter @misterpatches
[Photo Credit: Getty Images; Wenn]
---
From Our Partners:

'Groundhog Day' Cast: Where Are They Now? (Moviefone)


40 Most Revealing See-Through Red Carpet Looks (Vh1)