Production on The Amazing Spider-Man 2 is in full swing, with Andrew Garfield back as the friendly neighborhood crime fighter and Emma Stone as his blonde braniac girlfriend Gwen Stacey. As was the case with the original movie, director Marc Webb is taking his two leads out into the streets of New York City to film his webslinging hero in real locations. A superhero movie needs all the authenticity it can get, and it doesn't get more "real" than Garfield dangling from the rooftops of skyscrapers.
RELATED: 'Spider-Man' Star Andrew Garfield Reveals His Porn Name
And like the The Amazing Spider-Man's outdoor circus, the paparazzi are already out in full force to give us our first, raw glimpse at the new movie. To beat the savvy photographers to the punch, Sony has give us this look at the new and improved Spider-Man costume, in the form of a shiny one-sheet that has our Spidey Sense tingling.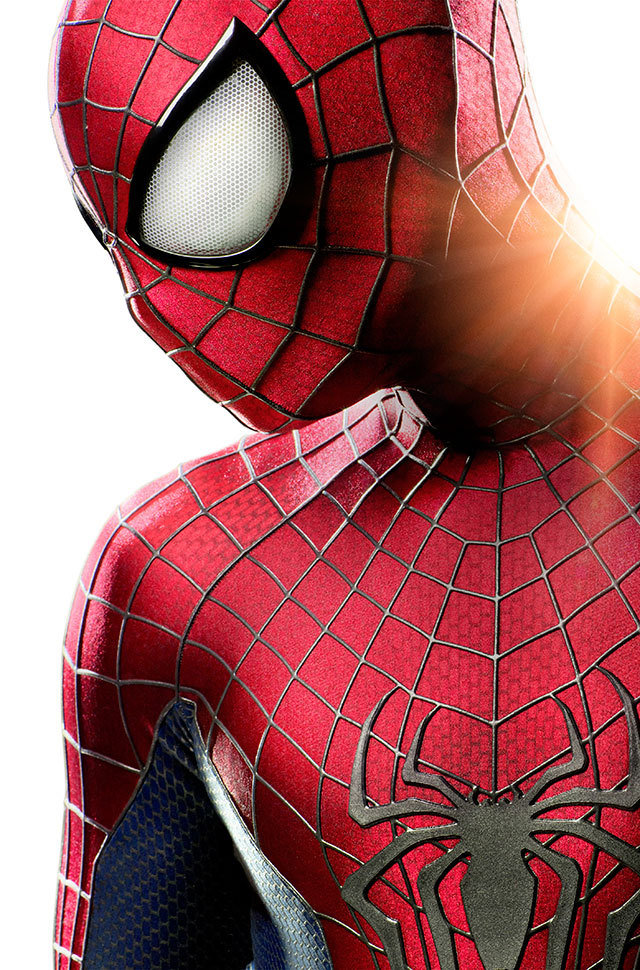 Unlike the first movie's dark, moody interpretation of the iconic suit, ASM2 is brightening things up and bringing Peter Parker's costumed look closer to the popping colors of the comic books (not too far off from what Sam Raimi did with his original trilogy). But the poster only paints half a picture. Luckily, the paparazzi picked up on Spidey's New York City whereabouts as soon as cameras started rolling and snapped this on-set pic: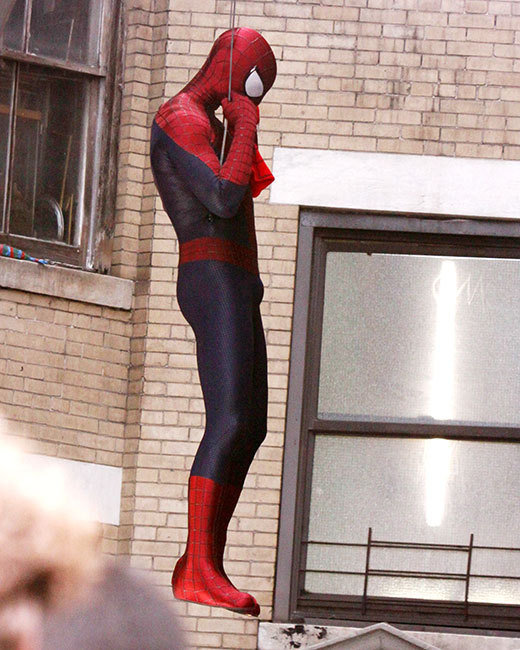 Yes, that's Spider-Man, alright — and this go around, he even has his belt back. Purists, take a deep breath.
If that weren't enough, Webb continues to seize control of the Twittersphere by rattling off set pictures straight from his iPhone. See all the director's teasing Twitpics in our Amazing Spider-Man Set Pics gallery.
RELATED: 'Amazing Spider-Man 2': Paul Giamatti to Play Unfriendly Neighborhood Rhino
Along with Garfiend and Stone, The Amazing Spider-Man 2 sports an all-star cast of Jamie Foxx, Sally Field, Paul Giamatti, Shailene Woodley, Dane DeHaan, and Felicity Jones. The movie arrives in theaters May 2, 2014.
Follow Matt Patches on Twitter @misterpatches
[Photo Credit: Marvel/Columbia Pictures; Jose Perez/Splash News]
---
From Our Partners:


40 Most Revealing See-Through Red Carpet Looks (Vh1)


33 Child Stars: Where Are They Now? (Celebuzz)