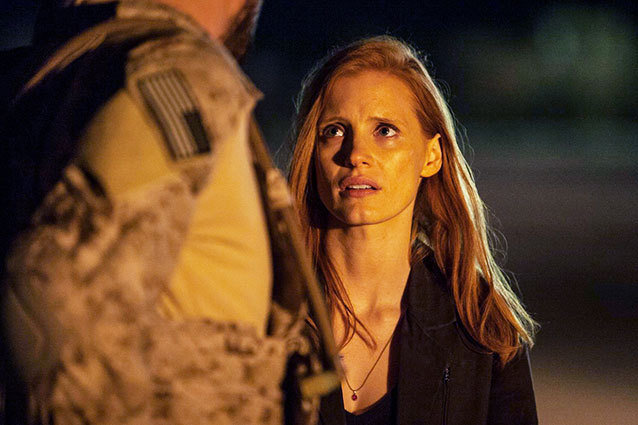 Despite being released three months ago, another day, another Zero Dark Thirty uproar. Just as soon as the dust started to settle with Kathryn Bigelow's controversial depiction of the decade-long manhunt, and eventual killing, of al Qaeda leader Osama bin Laden, it's been kicked up again. 
Around the same time that the Senate Intelligence Committee dropped their investigation of the film's torture sequences and concern that the filmmakers had access to top secret information, familes of a 9/11 accused those behind the Oscar-winning movie which stars Jessica Chastain (pictured in a scene from the film) of using audio of the voices of their loved ones without their consent. 
RELATED: 'Zero Dark Thirty': Senate Drops Their Investigation 
Last week the New York Times reported that the family of Betty Ann Ong, a flight attendant who died aboard American Airlines Flight 11  on September 11, 2001 "was improperly used in an opening sequence of "Zero Dark Thirty." (The film opens to a pitch black blank screen as the harrowing sounds of 9/11 are heard, including frantic, final phone calls from those lost). Her brother Harry Ong stated about the use of the audio, "I thought it was just outrageous, and totally poor judgment, and an abuse of the voices." Mark Boal, the writer of Zero Dark Thirty (whom the Ong family sent a letter to) stated last week, "As the 9/11 commission justly proclaimed, Betty Ong is without a doubt one of our national heroes."
In a letter from the Ong family, they demanded an apology from the Academy for the film and that the filmmakers donate to a charity set up in her name. Sony — which produced Zero Dark Thirty  along with Annapunrna have since donated to the museum being built at Ground Zero, and put the names of victims and links to foundations on the film's official web site — relayed to Hollywood.com in a statement:
"Zero Dark Thirty was borne out of the tragedy of September 11, a day that left an indelible mark on all Americans, but none more so than those who lost so much on that tragic day.  While the film tells the ten year story of how America brought the terrorist behind 9/11 to justice, we recognize that this remains a delicate and painful subject for many. That's why the filmmakers, beginning before the film's release, initiated contact with a number of family members of the victims of the 9/11 attacks, including some whose voices can be heard on publicly released tapes. We hope that Zero Dark Thirty is, in some small way, a tribute to those forever affected by the events of 9/11 and to those who worked so hard and risked so much to see that justice was done."
Since then, another family has come forward with a similar issue with the film. The family of Bradley Fetchet, a 24-year-old equities trader who worked on the 89th floor of the South Tower, say filmmakers used the audio of his last phone call without their consent. Mary Fetchet, Bradley's mother, told the New York Daily News in an interview, "I was shocked that I hadn't been contacted to be asked for my permission to use Brad's recording...to take his last words to me before he died, just, it's counterproductive to one's healing process. I don't object to the film being made. But I do object to them taking the liberty of including my son's last message to me."
The Fetchets had previously made the audio of Bradley's final phone call public, but, as attorney Brooke Oliver of Oliver & Sabec who has represented both families explained to Hollywood.com, "only to tell Brad's story and that of the other 9/11 families, and never for commercial purposes. " 
RELATED: Zero Dark Thirty' Takes Top Honors At 2013 Writers Guild Awards 
Oliver added, "The Fetchet and Ong families also hold the publicity rights in their loved one's voices. The filmmakers may claim the First Amendment and public interest offers them an exception for non-commercial use of the voices. It's hard to consider a blockbuster feature film that's making tens of millions 'non-commercial.' The voices and memory of those who died in 9/11 are not free for the taking; the recordings portray painful and frightening moments in real people's lives... Zero Dark Thirty should have asked permission and given credit where credit is due."
So do the families have legal grounds here since, as Oliver noted, "the tape recording itself is protected by federal copyright law." Tim Bukher, a parnter at Handal & Morofsky, LLC explained, "New York Civil Rights Law Section 51 provides a cause of action to '[a]ny person whose name, portrait, picture or voice is used within this state for advertising purposes or for the purposes of trade without the written consent first obtained.' In New York we call this our "Right to Privacy" (in California and some other states it is referred to as the "Right of Publicity"). Connecticut, which is relevant here because that is whether the deceased's family lives, also has a common law right of publicity."
Bukher adds, "The Right of Privacy does not apply with respect to news reporting for the obvious reason that news reporting is not historically viewed as having a purely advertising or trade purpose (plus our constitutional freedom of speech, especially as it relates to the press, trumps any state laws). In this case, however, you have a commercial artistic film using a person's voice without his permission; this would typically be considered a non-permitted use of a person's voice for the purposes of trade. The fact that the family may have permitted other parties to use the recording in the past does not provide the film's producers with the same right."
"New York does not extend a right of publicity to the deceased, Connecticut does. So whether or not the family has a valid claim depends on where the deceased was domiciled," Bukher explained, adding, "This area gets even more gray because certain jurisdictions have recognized that even artistic films that deal with matters of major public interest may, in certain instances, be viewed as news reporting — which would again bring back the free speech issues."
RELATED: 'Zero Dark Thirty': Pentagon Moves Ahead With Investigation
Oliver says what the families want as a result of this is simple: "The families want to set the record straight, and to be sure that their loved ones' legacies are associated with the things they and their families believe in." As the New York Times points out,  Zero Dark Thirty concludes with a dedication to "the victims and the families of the 9/11 attacks."
[Photo Credit: Columbia Pictures]
---
From Our Partners:

Kate Upton Bares All In Body Paint (Celebuzz)


33 Child Stars: Where Are They Now? (Celebuzz)